Lør. 11. nov. 18:15 – 19:15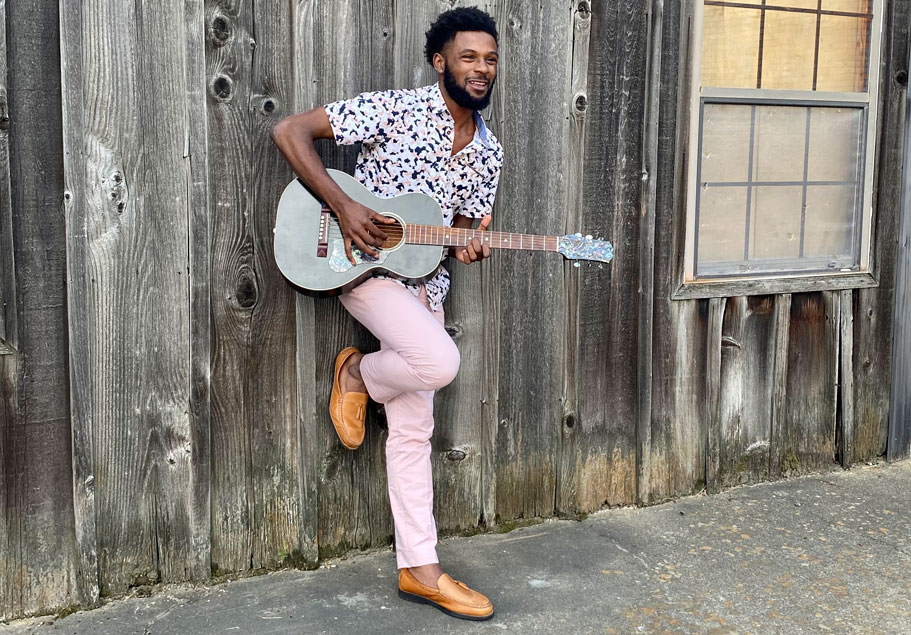 »I FEEL GOOD« Dylan "DT" Triplett & The Simi Brothers
| | |
| --- | --- |
| Dylan Triplett | Vocal |
| Nicolas Simi | Guitar / vocal |
| Danilo Simi | Guitar / vocal |
| Pedro Leo | Trommer |
| Wellington Pagano | Bass |
DYLAN TRIPLETT UDRÅBT SOM BLUES- OG SOUL VIDUNDERBARN
En gang imellem vil en sangers stemme få dig til at stoppe op. Dette er tilfældet med det unge vokale kraftcenter Dylan Triplett, en 22-årig sanger fra i St. Louis-området med en eksplosiv vokal-spændevidde på fire og en halv oktav!
Til trods for den unge alder, er han allerede en ægte blues og soulsanger, velsignet med en gudsbenået stemme og evne til at smelte blues, R&B og soul sammen til en fremragende sjælfuld gryderet.
Dylan har efterladt publikum forbløffet over de seneste optrædener i Memphis, Clarksdale, St. Louis og på The Legendary Blues Cruice, og han er nu klar til at indtage Europa via Blues Heaven.
Triplett begyndte at synge i en alder af ni år hvor han blev udråbt som blues- og soulvidunderbarn og startede sin professionelle karriere som 15-årig, hvor han optrådte med sin far og onkel, de er begge garvede jazzmusikere.Ikke længe efter begyndte Dylan at optræde regelmæssigt med Marquise Knox, (som også er blandt de optrædende på festivalen i år)
Dylan debuterer nu på CD med det Blues Music Award nominerede album »Who Is He?« "Hvem er han?" er både albumtitel og et oprindeligt legitimt spørgsmål, idet albummet trækker på både Blues, Jazz, Gospel, Soul og R&B. Albummet skulle egentlig have været udgivet i 2020, men pga. pandemien er det først kommet nu.
Debutudgivelsen er produceret af den Grammy-vindende bassist og producer Taj Mahal/Phantom Blues Band/Ruthie Foster bassist Larry Fulcher med gæste optræden af bl.a. guitarist Christone "Kingfish" Ingram og den legendariske nu afdøde Mike Finnigan på keyboard. Albummet blev indspillet i 3 forskellige studier: Blue Lotus Studios i St. Louis, Texas Southern University Recording Studio i Houston og Ultratone Studio i Studio City, Californien.
KONKLUSION: "Who Is He?" er et så modent debutalbum af høj kvalitet, at man som lytter uundgåeligt spørger sig selv, hvordan DYLAN TRIPLETT vil toppe sådan en lytteoplevelse i fremtiden. Men det bør ikke være vores bekymring: Lad os bare være glade for, at der i ny og næ kan findes perler som "Who Is He?" i strømmen af nye albums. Denne hører bestemt til i samlingen for alle soul- og bluesfans!
Et af Blues Heavens artister fra 2022 Jontavious Willis siger "Dylan Triplett er en kraftfuld bluesvokalist med en enorm rækkevidde og udtryksfuld stil. Han kan gå enhver retning, han vil musikalsk. Han er et af de hotteste unge talenter derude, punktum."
Hans sætliste er usædvanligt fantasifuld for en så ung kunstner. Dette er en stemme med potentiale til at yde et væsentligt bidrag til bluesverdenen i de kommende år.
Dylan Triplett er en stjerne i fremmarch! "Jeg har haft fornøjelsen af at kende Dylan i et par år nu, og jeg kan ærligt sige, at han er en af de bedste performere, jeg har set. Så snart han tager mikrofonen indtager han scenen og publikum med storm.
Hvis du er i tvivl om fremtiden, er Dylan Triplett svaret! Spænd sikkerhedsselen!!
Efter Dylan i maj måned vandt katagorien "Best Emerging Album"  ved Blues Music Awards i Memphis, kom den artikel i Blues "Blast Magazine". Læs mere her…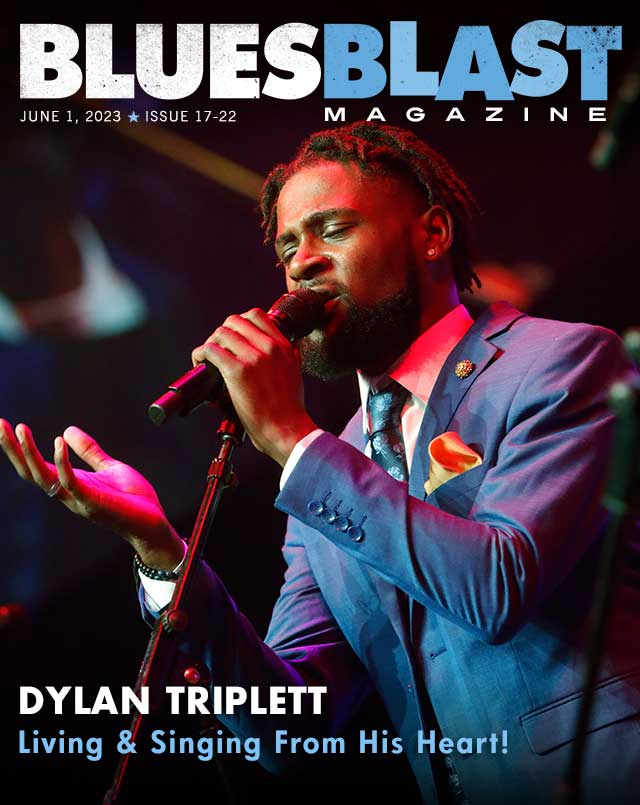 A Soul, Blues and R&B powerhouse!
His name is Dylan Triplett, and he was born twenty-two years ago in Saint Louis, Missouri, where he listened to some of his predecessors like Chuck Berry, Little Milton, Tina Turner or even Miles Davis, which deeply influenced his musical evolution, which led him to start his musical career at the age of fifteen, playing with his father and uncle, both renowned musicians, and quickly reaching an unusual prestige.
Dylan Triplett is a Blues and Soul prodigy raised in a music family. Dylan started singing when he was 9 years old and had been doing so professionally since late 2016 when he began singing with Miss Carolyn Mason and other young artists like Marquise Knox. He's since performed at the National Blues Museum, among many other places, and is a star on the rise!
Thanks to the Vizztone record label, we have discovered a valuable young voice of the contemporary soul, with a vibrant tone, full of energy, magic, and passion, which combines as few musicians can do, the most authentic blues, soul and rhythm and blues.
For this debut album, Dylan has counted on the valuable help of bass player and producer Larry Fulcher, who has assembled an excellent group of musicians such as Christone "Kingfish" Ingram, Johnny Lee Schell, Sean McDonald, Tru Born, Mike Finnigan, and Kyle Turner. A very reliable team Larry has selected to support this young blues and soul singer with a promising future ahead.
The recording gathers ten songs combining Triplett's compositions with versions from Bill Withers, Marvin Gaye, and Miles Davis. As the album title says, this is the moment to ask and discover a voice that, despite its youth, has already got an unquestionable maturity.