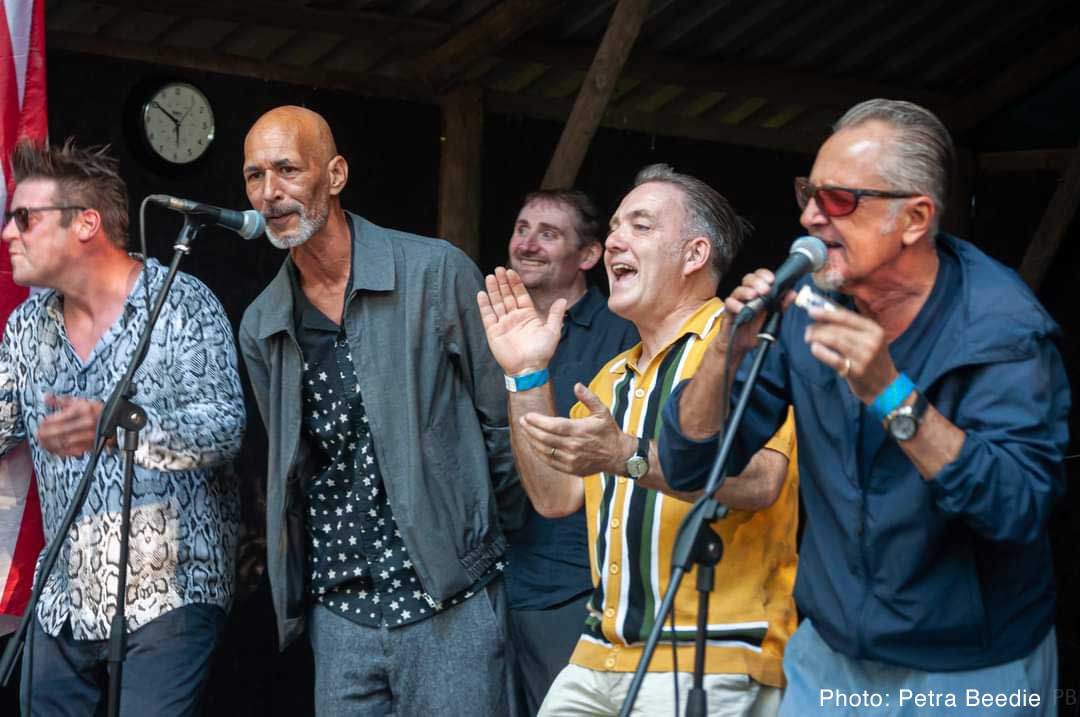 Paul Lamb and the King Snakes - Sweet Sweet Woman
| Line up: | |
| --- | --- |
| Paul Lamb | Bluesharp, Vokal |
| Chad Strentz | Vokal, Guitar |
| Ryan Lamb | Guitar |
| Orlando Shearer | Bass |
| Mike Thorne | Drums |
Paul Lamb & The King Snakes
Paul Lamb (født 9. juli 1955, i Blyth, en lille by nord for Newcastle, England) er en britisk bluesmundharmonikaspiller og bandleder. Han har haft en lang karriere igennem fire årtier som mundharpe-virtous og bandleder med fans over hele verden.
Lamb begyndte at spille mundharmonika i sin barndom, inspireret af Sonny Terry, og han var så heldig at møde og samarbejde med Sonny, efter at han begyndte at optræde i klubber i en alder af femten.
Lamb spillede kun akustisk blues indtil omkring 1980. Han spillede også sammen med sine helte Buddy Guy, Junior Wells og Brownie McGhee.
Han dannede Blues Burglars sammen med guitaristen Johnny Whitehill i begyndelsen af 1980'erne, en formation der til sidst blev til Paul Lamb & the King Snakes. De udgav et album med Ace Records i 1990, efterfulgt af 16 andre albums på adskellige selskaber.
Der har til dato udgivet 17 albums
Han blev belønnet med British Blues Connections årlige pris for den bedste lokale mundharmonikaspiller flere år i træk, mens King Snakes ofte tog titlen som bedste band.
Som en konsekvens heraf har hans egne mundharmonikafærdigheder været efterspurgte af utallige, og han havde et hit i 1994 i UK Singles Chart med nummeret "Harmonica Man" (under pseudonymet Bravado) Lamb har også arbejdet med Mark Knopfler, The Who og Jimmy Nail, spillet på BBC og film soundtracks og forskellige tv-reklamer i Storbritannien.
Lamb blev for optaget i British Blues Awards Hall of Fame. Magasinet Blues & Rhythm beskrev hans band som "lazily cocksure and coolly aggressive".
Deres seneste album hedder »Live at the Royal Albert Hall« og udkom i 2017.
Medlemmer af King Snakes-bandet har inkluderet sanger/guitaristerne Johnny Dickinson (død 2019) og Chad Strentz, bassisterne Jim Mercer, Dave Stevens og Rod Demick, trommeslagerne Mike Thorne, Martin Deegan, Alan Savage, Daniel Strittmatter og Sonny Below og Pauls søn Ryan på leadguitar.
Paul Lamb er da også en særdeles velkendt gæst på de danske bluesscener, om end der er gået nogle år, siden han har spillet her med sit band The King Snakes.
Paul Lamb & the King Snakes har haft skiftende besætninger, siden de blev dannet som Blues Burglars i 1980'erne. Den herboende bassist Dave Stevens (som i dag spiller med H.P. Lange Big Gumbo og The Works) har for eksempel taget en tørn. Blues Heaven's hovedmand Peter Astrup var "executive producer" på deres 1992-album Shifting into gear.
Paul Lamb and the King Snakes
Paul Lamb is known by aficionados and the music press around the world as a foremost blues harmonica exponent, forging himself a place in the history books as one of the greatest players of our time.  Countless awards have been won by him and his band.
He has sold record-breaking quantities of albums and performed around the world.  Having been inducted into the British Blues Awards Hall of Fame (alongside the likes of Pete Green, John Mayall and Alexis Korner),  Paul continues to bring his infectious brand of soulful blues to his fans around the globe.
Paul Lamb & the King Snakes, are simply the best U.K. Blues band. They have been at the top of the British Blues tree for over forty years and the release of their latest album "Live at the Royal Albert Hall" simply confirms this status. Consistently rated as being one of the greatest harmonica players in the world, Paul Lamb leads the way as a Blues entertainer. The band delivers outstanding Blues with an amazing on-stage performance, to delight one and all.  Expect a wonderful mix of real blues, boogie & swing………so be sure to catch Paul Lamb & the King Snakes blowing up a storm.