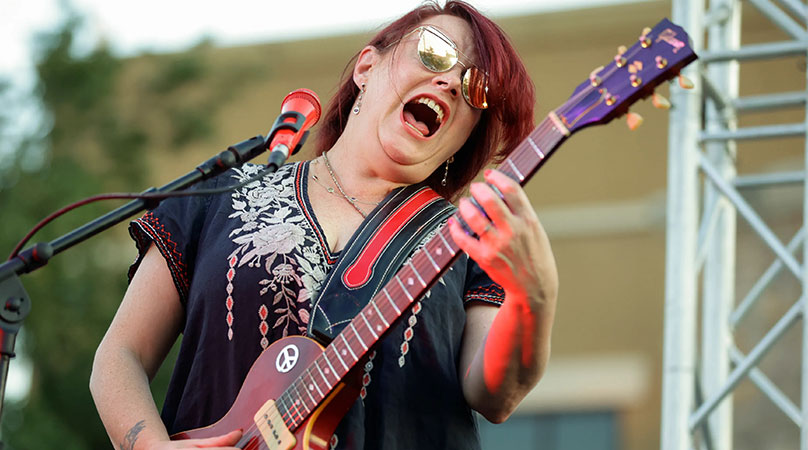 Carolyn Wonderland: "Fragile Peace And Certain War"
| Line up: | |
| --- | --- |
| Carolyn Wonderland | Guitar, Vokal |
| Cole El-Saleh | Keyboards |
| Tba | Bass |
| Kevin Lanc | Drums |
Carolyn Wonderland
Hun blev født Carolyn Bradford, 9. november 1972 i Houston, Texas, hun er en amerikansk blues singer-songwriter og musiker. hun droppede ud af Houstons Langham Creek High School for at forfølge sine musikalske ambitioner.
I 1999 flyttede Wonderland til Austin, Texas. I 2001 mistede hun sin lejekontrakt, efter at hendes udlejer blev syg, og hun besluttede sig derefter for at leve i sin van, da hun alligevel tilbragte mere end 300 dage om året på landevejen for at optræde.
Wonderlands instrumentale evner omfatter guitar, slideguitar, mandolin, trompet og klaver. Selvom Wonderland primært er en blueskunstner, kan hun godt lide at inkorporere elementer af country, swing, zydeco, surf, gospel og soul i sin musikalske blanding.
I februar 2008 udgav Wonderland cd'en, »Miss Understood«, på Bismeaux Productions label, og titelsangen har været på top 50 på 'Roots Music Report'-listen siden albummets udgivelse. Fans af Wonderlands musik inkluderer Bob Dylan og Ray Benson, grundlæggeren af Asleep at the Wheel. Benson producerede Miss Understood og har været en af hendes sangskrivningssamarbejdspartnere lige siden. Wonderland krediterer flere blues- og Texas-musikere som indflydelser på hendes musik.
Wonderland har været involveret i en række optagelser, herunder flere, der var selvproduceret på uafhængige pladeselskaber. Hun var forsanger i front af bandet Imperial Monkeys. Wonderland udgav »Bloodless Revolution« i 2008 og er den primære sanger på Jerry Lightfoot's Band of Wonder "Texistentialism" CD med Lightfoot og Vince Welnick (Grateful Dead, Tubes.)
Wonderland var et stiftende medlem af Loose Affiliation of Saints and Sinners (med Papa Mali, Eldridge Goins, Guy Forsyth og andre), flere af hendes sange var med på deres cd'er. Hun var også lead-guitaristen i sydstatsrockbandet Sis DeVille ,Mer Shelley King, Sarah Brown, Lisa Pankratz og Floramay Holliday og et stiftende medlem af Austin Volunteer Orchestra.
Carolyn's musik bruges på NBC's TV-serie Homicide og Fox's Time of Your Life. Hun var headliner ved den årlige Rochester International Jazz Festival. I 2003 åbnede Wonderland Sturgis Motorcycle Rally, efter at have optrådt der i de foregående ti år
Hun optræder også med Imperial Golden Crown Harmonizers og samler penge ind til lokale velgørenhedsorganisationer i Austin.
Den 6. april 2018 sluttede Wonderland sig til John Mayall's band som hans første kvindelige leadguitarist i hans 60+ år lange karriere.
Carolyn Wonderland
Carolyn Wonderland began playing her mother's vintage Martin guitar when other girls were dressing dolls. She'd gone from being the teenage toast of her hometown Houston to sleeping in her van in Austin amid heaps of critical acclaim for excellent recordings.
Along with the guitar and the multitude of other instruments she learned to play – trumpet, accordion, piano, mandolin, lap steel – Wonderland's ability to whistle remains most unusual. Whistling is a uniquely vocal art seldom invoked in modern music, yet it's among the most spectacular talents the human voice possesses.
That vocal proficiency was well-established in the singer's midteens, landing her gigs at Fitzgerald's by age 15. She absorbed Houston influences like Little Screamin' Kenny, Albert Collins, Lavelle White, Jerry Lightfoot, Joe "Guitar" Hughes, Little Joe Washington, "borrowed" a car to sneak out and jam ended up swapping songs with Townes Van Zandt at Houston's Local's on White Oak, got involved in the underground theater scene becoming the first "Photochick" in Jason Nodler's "In the Under Thunderloo" and soaked up touring bands like the Paladins, Los Lobos, and the Mad Hatter of Texas music, Doug Sahm. Her music played in television series such as "Time of Your Life" and NBC's "Homicide." The Lone Star State was as credible a proving ground for blues in the 1980s and 90s as existed, especially in Austin with Stevie Ray Vaughan & Double Trouble, the Fabulous Thunderbirds, Angela Strehli, Omar & the Howlers, and Lou Ann Barton all in their prime. By the following decade, Austin's blues luster thinned, but Houston, always a bastion of soul and R&B, boasted the Imperial Monkeys with the effervescent Carolyn Wonderland as ruler of the jungle.
In the early 1990s, Wonderland & the Imperial Monkeys were invited to the Guadalupe Street Antone's in Austin. There, they were treated like royalty with the singer as the queen of hearts in the club's post-Stevie Ray Vaughan stable, which included Toni Price, Johnny and Jay Moeller, Sue Foley, Mike and Corey Keller, and the Ugly Americans. It was a good bar for the Monkeys to hang, and Austin felt so comfortable that when the band called it quits a few years later, after a run-in with black ice and a semi that wound young Miss Wonderland in the hospital, she set her sights on Austin at the start of the millennium. Besides, Doug Sahm had told Carolyn while they were signing autographs together at the High Sierra Music Festival, she ought to move to Austin, as it was the land of free guitar lessons. She was there in months.
Living in Austin renewed Carolyn Wonderland's focus on her multiple talents, underlining rich vocals with excellent guitar work, trumpet, and piano, as well as that remarkable ability to whistle on key. Despite spending two years homeless (or as she puts it, "van-full,") Austin has been fertile ground for Carolyn. A series of each-better-than-the-next discs began with Alcohol & Salvation in 2001 ("songs about booze and God; records are a time capsule of what happened that year") 2003's "Bloodless Revolution," The Bismeaux Releases: 2008's "Miss Understood," 2011's "Peace Meal" (recorded at Bismeaux and Levon Helm Studios in Woodstock,) 2015's "Live Texas Trio"; and here we are with 2017's "Moon Goes Missing."
Carolyn also got to stretch out with other bands and notably appears in Jerry Lightfoot's Band of Wonder's 2002 release, "Texistentialism" featuring Jerry Lightfoot, Vince Welnick (Grateful Dead, The Tubes, Todd Rundgren,) Carolyn, Barry "Frosty" Smith (Lee Michaels, Sly & the Family Stone, Rare Earth, Soulhat) and Larry Fulcher (Taj Mahal, Phantom Blues Band). She has released many songs for charity, 2016's "Room at the Inn" (iTunes) benefits Doctors Without Borders, 2013's "Money in the Game" (featuring Marcia Ball and Shelley King) benefits Planned Parenthood, "the Farmer Song" from "Miss Understood" benefits Farm AID, "Annie's Scarlet Letter" from "Bloodless Revolution" benefits NORML, 1997 Justice Records released Carolyn's version of Little Screamin' Kenny's holiday lament, "Blue Lights" (featuring Ian McLagan) benefitting MD Anderson Children's Art Project.
Carolyn's first appearance on vinyl? She's with James Williamson (Stooges) on the April 2014 Record Store Day single, "Open Up & Bleed" AND on the full LP inspired by that fun session, "Re-Licked" featuring Raw Power Era songs with cool and risky guests.
Her circle of musician friends and admirers broadened to include not only Ray [Benson, who produced Miss Understood] but also the late Eddy Shaver, Shelley King, and yes, Bob Dylan, who likened her composition "Bloodless Revolution" to "a mystery movie theme." She appeared on the same taping with Sharon Jones and the Dap-Kings when she made her debut on PBS' "Austin City Limits" (Season 35.) and had the thrill of her life when Bonnie Raitt joined her onstage for "The Road to Austin" concert film featuring Stephen Bruton and all his friends, got to play with James Cotton, Pinetop Perkins, and so many others at Antone's, she and Erin Jaimes put together a benefit for Uncle John Turner and Johnny Winter insisted on bringing his band by to play, Carolyn's wedding to A. Whitney Brown was officiated by Mike Nesmith (Monkees,) who serendipitously introduced them on set at VideoRanch in 2010. (there is a video of the two of them on stage together that day!) She began co-writing with locals Sarah Brown, Shelley King, Marcia Ball, Ruthie Foster, Cindy Cashdollar, and Guy Forsyth; sat in with Los Lobos, Levon Helm, Vintage Trouble, Robert Earl Keen, and Ray Wylie Hubbard; and toured relentlessly for the past two decades, sometimes with luminaries like Dave Alvin, Buddy Guy and Johnny Winter, so far spreading her music in US, Europe, South America and Japan. She also claims membership in the all-girl Sis Deville, the gospel-infused Imperial Crown Golden Harmonizers, the Texas Guitar Women, and the Woodstock Lonestars.
Carolyn recently joined John Mayall's Band as his guitarist and is balancing life on the road with writing time at home and on the way. She's been touring for over 25 years and ain't done yet. Come and see it at a show! (seriously, she's perpetually on tour.)