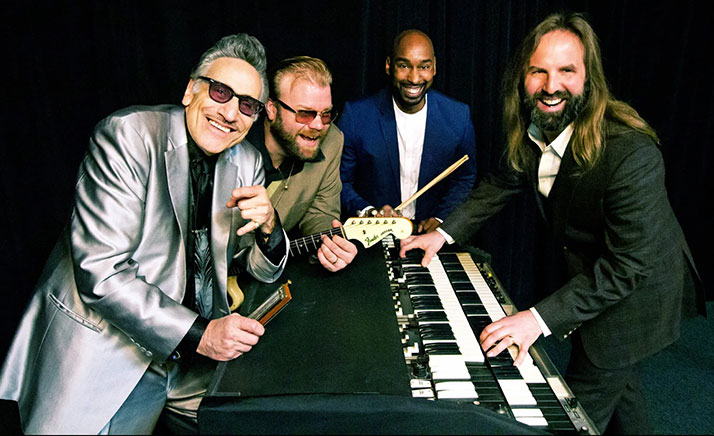 | | |
| --- | --- |
| Rick Estrin | Harp/vocal |
| Kid Andersen | Guitar |
| Lorenzo Farrel | Bas/keyboard |
| Derrick 'D'Mar' Martin | Trommer |
| | |
Netop modtaget den tungeste pris af dem alle: "Band of the Year" på Blues Music Awards ceremonien i Memphis. Rick Estrin & The Nightcats er en veltrimmet underholdningsmaskine og et at USAs største bluesband, med den karimatiske frontfigur Rick Estrin på vokal og bluesharp og norske Grease studio ejer producer Kid Andersen på guitar.
Sanger / sangskriver / harmonika-spiller Rick Estrin, er kaldt en verdensklassemusiker er den mest farverige og underholdende showman på planeten. Klædt i 40-tallet hipster-stil hajskinddragter, hvide sko og hår i en pompadour, har han og hans band Rick Estrin & The Nightcats lige udgivet deres seneste album, Contemporary. Dette studioalbum leverer tolv moderne sange, en kombination af rockabilly, jazz, blues, rock og big band-swing.
Det hele startede en septemberdag i 1976. 26-årige Rick Estrin mødte guitaristen Charlie Baty i San Fransisco. Begge elskede blues og swing, og de var altid at finde på de mange klubber i området. Allerede dengang bestemte de sig for at gøre musikken til deres levevej, og en bassist og trommeslager blev fundet, og Little Charlie & The Nightcats var en realitet.
Ingen drømte dengang om alt den hæder, ære, priser og international anerkendelse som ventede bandet. De mixede traditionel Chicagoblues med rock 'n roll, sving og jump blues, og da den første plade, "All the Way Crazy", kom i butikhyldene i 1987 var de allerede et internationalt navn.
Trods succesen forlod Charlie Baty gruppen i 2007, og dermed skiftede bandet navn til Rick Estrin & The Nightcats. Nyt blod blev tilført da nordmanden Christoffer "Kid" Andersen valgte at flytte fra Norge til California i 2007. I dag er Kid Andersen en etableret og efterspurt guitarist producer og har været en Nightcat i 10 år nu. Sammen med bassist og keyboardspiller Lorenzo Farrel  og  trommeslager akrobaten Derrick 'D'Mar' Martin(som var i Little Richards fra 1995- 2002) sørger de for at det svinger bag Ricks vokal og mundharpe. 
Rick Estrin blev vinder af den prestigetunge Blues Music Award for årets bedste blues mundharpespiller under en ceremoni i Memphis i fjor. The Nightcats er endnu en gang nomineret til «Band of the Year». I tillæg er Rick nomineret til «Entertainer of the Year» og Kid til «Guitar player of the Year». 
Nu kommer Rick Estrin & the Nightcats endelig på et sjældent Danmarksbesøg. Bandet har gennem 4 årtier rendyrket kunstarten: hvordan man sætter salen i kog. Nogle vil måske hævde at det er på grund af norske Kid Andersens fantastiske guitarspil og opfindsomme sceneoptræden. Men sagen er, at bandlederen og entertaineren Rick Estrin har en scenepersonlighed af et sjældent format. Og der er vel ingen som har så store lunger som Rick Estrin. Hans mundharpepræstationer er på højde med Mount Everest, så det er bare at skrue op for forventningerne når bandet endelig kommer og modtager stående ovationer.
Med sig har Rick & Co seneste studie-album "Contemporary" som udkom på Alligator Records 2019. Albummet har fået fantastiske anmeldelser.
Rick Estrin & The Nightcats
Larger-than-life blues star Rick Estrin has piloted the wildly fun and musically fearless Rick Estrin & The Nightcats for the last decade, touring the world and proving night after night why they won 2018's Blues Music Award for Band Of The Year. The limitless combined talents of blues harmonica virtuoso and sly, soulful singer Estrin, guitar mastermind Kid Andersen, keyboard wizard Lorenzo Farrell and endlessly creative drummer Derrick "D'Mar" Martin take Estrin's inventive, original songs to new and unexpected places. On stage, the band's ability to deliver an unpredictable, no-holds-barred show is unmatched.
Now, Rick Estrin & The Nightcats return with their fourth studio album, Contemporary. With the band kicking everything up a notch, Estrin and the Nightcats explore some different sounds, instrumentation and grooves, while maintaining the trademark Nightcats style. Produced by Andersen and Estrin and recorded at Andersen's now-famous Greaseland Studio in San Jose, California, Contemporary delivers twelve surprising, wise-cracking, foot-stomping songs, including nine by Estrin (one co-written with Andersen), one each by Andersen and Farrell, and one obscure Bobo Jenkins cover. From the noir-ish romp I'm Running to the hilarious title track to the sardonic Resentment File (co-written with Estrin's friend of over 50 years, Joe Louis Walker), Contemporary packs a modern blues punch. According to Estrin, "Recording at Greaseland, we all had so much fun and were so relaxed, the genius ideas just started pouring in from all sides. I really expect this record to blow some minds."
In addition to Estrin's celebrated songwriting and spectacular harmonica playing, he and the band are among the most entertaining and colorful showmen around. Estrin's flashing harmonica solos, quick wit and signature hipster-cool look, Andersen's off-the-cuff guitar pyrotechnics, Farrell's mighty organ and piano work and D'Mar's dynamic drumming bring instant fun to their live performances. "People don't go out to see people who look like themselves," says Estrin. "They want to see something special. I was schooled in this business to be a showman, and that's what you get when you come to see us perform. We know how to put on a show. I feel sorry for anyone who has to follow us."
Estrin was schooled by some of the very best blues musicians. While still a teen, he was tutored by San Francisco's famous musician (and pimp) Fillmore Slim. He was mentored by Oakland's legendary Rodger Collins, and gigged with blues stars Lowell Fulson and Z.Z. Hill. Estrin moved to Chicago when he was 19 to work with Windy City bluesmen Johnny Young, Eddie Taylor, Sam Lay and John Littlejohn, and even jammed with Muddy Waters. He returned to California and continued to hone his craft. By the time he joined forces with guitarist Little Charlie Baty and formed Little Charlie & The Nightcatsin 1976—a band he would front for the next 30 years—Estrin was a seasoned performer with plenty of talent and a newfound knack for writing killer original songs.
Upon Baty's retirement from touring in 2008, Estrin recruited high-flying guitar wunderkind Christoffer "Kid" Andersen and formed Rick Estrin & The Nightcats. The band quickly became a worldwide favorite with blues fans as well as critics and radio programmers. "Kid's a fearless nut on the guitar," says Estrin. "He's really the only guy who could fit in with us." With an uninhibited style that perfectly meshed with Estrin's wildly imaginative songs, the new band charged out of the gate. Billboard called them "fabulous, remarkable and original."
Since the 2009 release of Rick Estrin & The Nightcats' celebrated Alligator Records debut, Twisted, the 2012 follow-up One Wrong Turn, 2014's crowd-pleasing You Asked For It…Live!, and 2017's Groovin' In Greaseland, the band has toured the world, earning high praise and standing ovations everywhere they go. The Chicago Sun-Times said, "These are serious musicians having a hotter than hot good time. It's tough to stay in your seat when Estrin and his musical cohorts get cooking." They've performed at festivals and concert stages from San Francisco to Chicago to New York, and everywhere in between, plus tours of the United Kingdom, Norway, Belgium, France, Switzerland, Poland, Australia, Israel and recently Estonia and Russia. The band's worldwide popularity helped Estrin win five Blues Music Awards, including two nods for Song Of The Year (1994 and 2018), Best Instrumentalist—Harmonica (2013) and Traditional Blues Male Artist Of The Year (2018). The full band, Rick Estrin & The Nightcats, won the highly coveted 2018 Blues Music Award for Band Of The Year.
According to Estrin, "Contemporary is the most fully realized expression of who Rick Estrin & The Nightcats really are and what we're capable of as a band. With the group's help, everything I envisioned for the songs got turned up a notch, with everyone getting more and more inspired." This is modern blues at its most potent and powerful, with phenomenal musicianship and lyrics that cut with a wink and nod. According to the UK's Blues & Rhythm, "Rick Estrin & The Nightcats have crafted an instantly identifiable sound. They serve up insightful, original blues combined with tough rock'n' roll. This band is superb."
Rick Estrin (harmonica, vocals)
Rick Estrin was born in San Francisco, California in 1949, and grew up fiercely independent. As a 10-year-old boy, he made his way to the tough Market Street area and befriended many of the neighborhood characters. When he was 12, his older sister gave him a copy of Ray Charles' The Genius Sings The Blues, and he became infatuated with the music. Albums from Jimmy Reed, Champion Jack Dupree, Mose Allison, Nina Simone and others soon followed. By the time he was a teenager, Estrin had immersed himself in the urban, African-American culture surrounding him. He got his first harmonica at age 15, and by age 18 was proficient enough to begin sitting in at black clubs around the city. He first jammed with blues master Lowell Fulson and immediately was hired to open five shows for R&B giant Z.Z. Hill. He worked five nights a week for almost a year with guitar legend Travis Phillips in a band fronted by famed pimp/bluesman Fillmore Slim (who was the centerpiece of the acclaimed Hughes Brothers documentary American Pimp). Slim introduced Estrin to singer Rodger Collins, the man who would become Rick's first real musical mentor. Collins schooled Rick on the finer points of songwriting and show business. At 19, Estrin relocated to Chicago and worked with some of the city's best bluesmen. He met and jammed with the legendary Muddy Waters, who told Rick, "You outta sight, boy! You got that sound! You play like a man!" Muddy wanted Estrin to go on the road with him, but Estrin missed Muddy's phone call and it never happened. Estrin eventually moved back to the Bay Area, met guitarist Charlie Baty and formed Little Charlie & The Nightcats. With Charlie's retirement from touring in 2008, Rick brought in guitar virtuoso Kid Andersen and formed Rick Estrin & The Nightcats.
Estrin cites Sonny Boy Williamson II, Percy Mayfield and Detroit bluesman Baby Boy Warren as his major songwriting influences. His work on the reeds is deep in the tradition of harmonica masters Sonny Boy Williamson II and Little Walter Jacobs, while at the same time pushing that tradition forward with his innovative songs. And his sly and soulful vocals are the perfect vehicle for driving those songs home.
THE NIGHTCATS:
Kid Andersen (guitar)
Christoffer "Kid" Andersen was born in Telemark, Norway. A blues fan since childhood, Andersen fell in love with the music of Otis Rush, Buddy Guy, Junior Watson, and the Kings (B.B., Albert and Freddie). By the time he was 18, he was backing all the American blues stars who came through Norway, including Homesick James, Nappy Brown and Willie "Big Eyes" Smith. He moved to California when he was 21. Once in the U.S.A., Andersen earned a green card as an "Alien of Extraordinary Ability." Andersen released four solo albums before joining blues harmonica legend Charlie Musselwhite's band in 2004, a gig that lasted until he joined Rick Estrin & The Nightcats in 2008. In addition to being an expert multi-instrumentalist (guitar, bass, keyboards, percussion), Kid's talents as engineer and producer keep his now-famous Greaseland Studio fully booked. Winner of the 2017 Keeping The Blues Alive Award, Greaseland has been featured in The San Jose Mercury News as well as on NPR. At Greaseland, Kid has produced, engineered (and many times played on) albums by artists including Tommy Castro, Nick Moss, John Nemeth, Wee Willie Walker and Finis Tasby, as well as all five Rick Estrin & The Nightcats CDs.
Lorenzo Farrell (piano, organ)
Lorenzo Farrell was born in Lexington, Kentucky, and grew up in Bloomington, Indiana, where he started playing piano at age five. During his high school years in California, he discovered jazz and made the switch to upright acoustic bass. After high school, Farrell took several years off from his music career to earn a degree in Philosophy from the University of California at Berkeley, and study religion in Delhi, India. Since returning to the San Francisco Bay Area, he has been a highly sought-after multi-instrumentalist, having returned to piano and mastered the organ in recent years. A Nightcat since 2003, Lorenzo has also had the opportunity to perform and/or record with many other artists, including Wee Willie Walker, Elvin Bishop, Finis Tasby, Jackie Payne, Andy Santana, Terry Hanck and Little Charlie Baty's Organ Grinder Swing.
Derrick "D'Mar" Martin (drums)
Derrick "D'Mar" Martin is simply a force of nature. D'Mar is a musician, producer, songwriter, singer, educator, entertainer and motivational speaker. He traveled the world for 17 years as the drummer for the legendary Little Richard. D'Mar has also worked with a number of other artists including Dorothy Moore, Bobby Rush, Vasti Jackson, Ali Ollie Woodson (The Temptations), Big Jack Johnson, Carla Thomas, Billy Preston, Roy Gaines, Mitch Woods, Jackie Payne, Syl Johnson, Bob Margolin and Tutu Jones. He shares his passion for music education in his own music lecture series entitled Drums & More. Now, D'Mar brings all of these talents to his new family, The Nightcats.