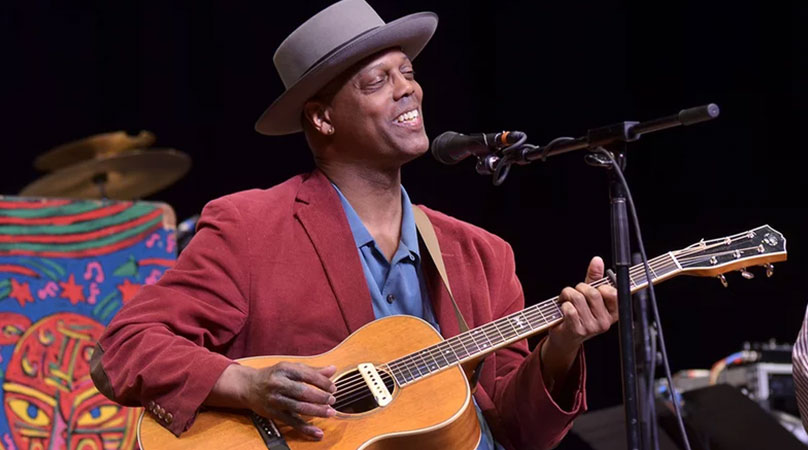 Eric Bibb - Dear America (Official Lyric Video)
| Line up | |
| --- | --- |
| Eric Bibb | Guitar, Vokal |
Eric Bibb
Eric Charles Bibb (født 16. august 1951) er en Grammy-nomineret amerikansk-født bluessanger og sangskriver. 
Bibbs far, Leon, var en musikteatersanger, som skabte sig et navn som en del af 1960'ernes New York-folkescene; hans onkel var jazzpianisten og komponisten John Lewis fra Modern Jazz Quartet. Familievenner inkluderede Pete Seeger og skuespiller/sanger/aktivist Paul Robeson, Bibbs gudfar.
Han fik sin første akustiske stålstrengsguitar i en alder af syv år. Da han voksede op omgivet af talent, husker han en barndomssamtale med Bob Dylan, som l rådede den 11-årige Bibb omkring hans guitarspil: "Keep it simple, forget all that fancy stuff" (som fortalt i "The Transatlantic Sessions 5" program og DVD fra BBC).
Bibb husker fra sine tidlige teenageår:
Jeg ville pjække fra skolen og hævde, at jeg var syg. Når alle havde forladt huset, Spillede jeg alle pladerne og lavede min egen personlige DJ-ting hele dagen lang, hvor jeg spillede Odetta, Joan Baez, New Lost City Ramblers, Josh White.
Da Bibb var 16 år, inviterede hans far ham til at spille guitar i house-bandet til sit tv-talentprogram Someone New. Bill Lee, der spillede bas i dette band, optrådte senere på Bibbs albums: »Me To You« og »Friends«. I 1969 spillede Bibb guitar for Negro Ensemble Company på St. Mark's Place i New York.
Han studere psykologi og russisk ved Columbia University, men afsluttede ikke disse studier. Det næste år, 19 år gammel, rejste han til Paris, hvor han mødte guitaristen Mickey Baker, der fokuserede sin interesse på bluesguitar.
Bibb flyttede til Stockholm, hvor han fordybede sig i førkrigstidens blues og den nyopdagede verdensmusikscene, mens han fortsatte med at skrive og optræde. »Good Stuff« blev udgivet i 1997 på Opus 3 og det amerikanske label Earthbeat. Bibb skrev kontrakt med det britisk-baserede Code Blue-label, men udgav kun ét album, »Me to You«, med optrædener fra nogle af hans personlige helte, Pops og Mavis Staples og Taj Mahal. Dette blev efterfulgt af turnéer i Storbritannien, USA, Canada, Frankrig, Sverige og Tyskland.
I slutningen af 1990'erne slog Bibb sig sammen med sin daværende manager Alan Robinson for at danne Manhaton Records i Storbritannien. Albummene »Home to Me«(1999), »Roadworks« (2000) og »Painting Signs «(2001) fulgte, og det samme gjorde 2005-udgivelserne til Opus 3, »Just Like Love« og »Spirit & the Blues«. Derefter lavede han »A Family Affair« (2002) med sin far, Leon Bibb. Dette blev efterfulgt af »Natural Light«, derefter »Friends«, som indeholdt 15 numre med Bibb, der duetter med venner og musikere, han havde mødt på sine rejser, såsom Taj Mahal, Odetta, Charlie Musselwhite, Guy Davis og Mamadou Diabate
I 2004 udgav Eric Bibb »Friends« som sin debutudgivelse under Telarc International Corporation. Bibb forblev hos Telarc Records fra 2004 til 2011, og udgav adskillige yderligere albums, herunder »A Ship Called Love« i 2005, »Diamond Days» i 2007 og »Spirit I Am» i 2008. Han udgav »Booker's Guitar» i januar 2010 med musik kanaliseret fra Delta-guitarmesteren selv, Booker White, også kendt som Bukka White. I november 2011 skrev Bibb kontrakt med Stony Plain Records. I 2018 åbnede Bibb for George Benson på hans turné i Storbritannien.
I marts 2021 blev det annonceret, at Bibb havde skrevet under på Provogue Records. Den førende single »Whole World's Got The Blues» med Eric Gales fra hans kommende album blev udgivet den 19. marts 2021, med albummet »Dear America» 2021.Yderligere to singler fulgte: »Born Of A Woman» med sangerinden Shaneeka Simon og »Emmett's Ghost» med Ron Carter.
Eric Bibb
Eric Bibb will release his brand-new album Dear America, on 10th September via Provogue/Mascot Label Group. Ahead of that he has revealed the new song, "Born Of A Woman," which you can see here.
Eric Bibb has known many different Americas, the good, the bad and the ugly. Born in New York City on August 16th, 1951, the thunderbolt of the Sixties folk revival remains an era so alive in the 69-year-old's memory that he can still recall the idealism on the night air of Greenwich Village and picture Bob Dylan standing in his living room. Yet just as vivid are the dark societal flashpoints of the last year, when protesters highlighted the open wound of US race relations while a bitter Presidential election scrawled jagged battlelines.
Fiercely literate and historically informed, Bibb is a global citizen whose US motherland – with all its pain and shame, hope and wonder – has bled into his art at every juncture since 1972's debut album, Ain't It Grand, announced him as a new force in blues, folk, and any other genre he cared to alight on. The Grammy-nominated singer-songwriter has perhaps never addressed the United States – or shone a light on himself – with such focused eloquence as Dear America. "On this record, I'm saying all the things I would want to say to somebody dear to me," Bibb considers. "But it's a self-portrait as well."
If you could call out to your country, what would you say? When Eric Bibb embarked on the title song that would galvanise the Dear America album, the songwriter found himself unpacking a seven-decade relationship with a partner of dramatic extremes. "It's a love letter," he explains of the record's root concept, "because America, for all of its associations with pain and its bloody history, has always been a place of incredible hope and optimism. To be American, and particularly to come from New York City, is to be blessed.
In November 2019, the bandleader hit Brooklyn's Studio G to track Dear America with producer/co-writer Glen Scott and a crack studio band.  "It was a kind of cosmically orchestrated series of events," he reflects. "I was so pleased to record with Ron Carter, who I have an early connection with through my dad. Tommy Sims was all over the sessions, a wonderful bassist who I've worked with before in Nashville. I've played with many great drummers, but Steve Jordan has that authority: it's just about the hit, man. As for Eric Gales on Whole World's Got The Blues – he was just sublime, probably the most powerful electric blues player right now."
Destiny is a glib concept, but from his earliest years, all the signposts were pointing Bibb towards a life less ordinary. His father, the late Leon Bibb, was the big bang that set it all off: a charismatic singer, actor and leader of men, who marched at Selma with Martin Luther King in '65, moved in the orbit of social earth-shakers like Bob Dylan and Paul Robeson (Eric's godfather), and brought home the ethos that art was more powerful when imbued with real life. "My dad was the door to the world that I live in," nods Bibb, who took ownership of his first acoustic guitar aged seven and never put it down. "That whole connection between music and forward-thinking social movements has always been at the bedrock. I never 'decided' I was going to be a writer of socially pointed songs. It was intrinsic. It has to be there. I write what I see."
There are lighter songs across the tracklisting, stresses Bibb, pointing to the benevolent chug of the locomotive-themed Talkin' 'Bout A Train, or the graceful opener Whole Lotta Lovin', with its heartfelt salute to the American roots music that put him on his path.
On the wistful Emmett's Ghost, he revisits the appalling murder of Emmett Till, whose incendiary lynching in 1955 galvanised the civil rights movement. "That song was written before the George Floyd case," he explains, "but it feels like it has particular resonance right now." Meanwhile, on the glowering Whole World's Got The Blues, Bibb puts an ear to the ground to tap the street-level malaise in his homeland and beyond.
"This album is a love letter," Bibb says again, "because all of America's woes, and the woes of the world, can only come into some kind of healing and balance with that energy we call love. That's my conviction. You see young people now and it's amazing, with the whole Black Lives Matter movement. All of those things let me know that there is a kind of reverberation from that Sixties energy. You can't keep a good thing down. Now we're at that 'watch and pray' moment, and it's an incredibly inspiring time to be writing songs…"