CAFE SCENEN
Lørdag 23:00 – 00:30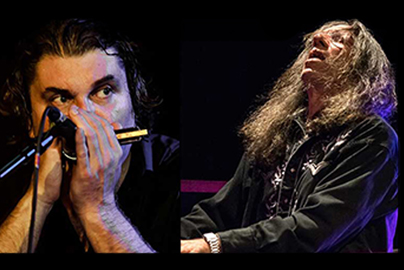 | | |
| --- | --- |
| Bruce Katz | Piano/orgel |
| Giles Robson | Harp |
| Aaron Lieberman | Guitar |
| Antar Goodwin | BAs |
| Robert Pasenko | Trommer |
| | |
Pianist Bruce Katz, blandt de mest efterspurgte pianister på blues-scenen, en blues Music Award-vinder og er fire gange Blues Music Award-nomineret. Bruce blev født i Boston i 1952. Han har indspillet ni albums med The Bruce Katz Band og har optrådt, turneret og indspillet med The Gregg Allman Band, Delbert McClinton, John Hammond, Ronnie Earl, Duke Robillard, Joe Louis Walker samt med The Allman Brothers Band.
Bruce Katz, Giles Robson og Joe Louis Walker samarbejdede førte til det Blues Music Award vindende album "Journeys To The Heart Of The Blues" album på Alligator Records. De var igen i studiet med Bruce's band for at indspille Robsons nye album "Don't Give Up On The Blues" beskrevet af American Blues Scene Magazine (USA) som et "Spændende, opfindsomme, kraftfulde og herlige samarbejde" og rangeret af Mojo Magazine som Nr. 3 Blues Album of the Year 2019.
Giles Robson – Harp
Blues Music Award-vinder Giles Robson, blev født i 1England 978, han har indspillet fire albums og har vundet fans over hele Storbritannien, Europa og endda Rusland. En livslang bluesdiscipel, han kender og forstår tradition, men er ikke bange for at tage musikken i uventede retninger.
Giles fik sin første mundharmonika i en alder af 14 og kort tid efter oplevede han en koncert med Cephas Wiggins og fra da af var han hooked på bluesen. Blues Matters Magazine siger, "Robson er en mundharpespiller i verdensklasse. Han har autoritet, tillid og ekspertise forbundet med legender."
Aaron Lieberman – Guitar
Modtog sin Bachelor of Music-grad fra Manhattan School of Music. I løbet af denne tid hjalp han med at danne rockbandet, God Street Wine. I løbet af deres 11-årige løb indspillede God Street Wine tre labelalbum og turnerede meget gennem USA, Canada og Europa og delte scenen med kunstnere som Bob Dylan, The Allman Brothers og The Black Crowes.
Antar Goodwin – Bas
har spillet elektrisk og akustisk bas på mange af NYCs bedste scener. Født i Phililelpia og i en alder af fem spillede han trommer og som syv-årig klaver og klassisk violin. Da han var i teenager byttede han med sin violin og begyndte da spille bas, guitar, og skrive sange. Siden eksamen har han samarbejdet med Sting, Patti Smith og 100-vis andre
Ray Hangen – Trommer
Begynder i en alder af sytten, uanset om han spiller blues, country, funk, jazz, rock, R&B eller zydeco, rammer Hangen et hårdt og varmt beat lige så stabilt som et klokværk. I 2004 blev Hangen bedt om at slutte sig til Sean Costello. I løbet af Rays tid med den afdøde guitarist, indspillede de tre prisvindende cd'er. Derudover har han spillet med Kim Wilson, Lurrie Bell, Eddie Kirkland, Lou Pride, Joe Louis Walker, Ana Popovic og John Nemeth.
Bruce Katz is a legendary keyboardist (Hammond B3 and piano) who has released 10 CDs as a leader and has appeared on nearly 70 other CDs with the likes of John Hammond, Delbert McClinton, Ronnie Earl, Butch Trucks, Duke Robillard, Little Milton, Joe Louis Walker, David "Fathead" Newman, and many, many others. He has also had a strong musical connection with the Allman Brothers Band, has been a member of Gregg Allman's band for six years (2007-2013), Jaimoe's Jasssz Band (2010-2015), Butch Trucks's Freight Train Band (2015-2017) and Les Brers. Bruce also toured with the Allman Brothers. He is a seven-time BMA nominee (2008, 2009, 2010, 2015, 2019, 2020, 2021) for the "Pinetop Perkins Piano Player of the Year" award, which is the equivalent of the "Blues Grammys". He was also nominated by Living Blues Magazine for the "Outstanding Musician (Keyboard)" award in 2015 and 2019. He won the 2019 BMA for "Best Acoustic Album" for "Journeys to the Heart of the Blues", recorded with Joe Louis Walker and Giles Robson, and was nominated for "Acoustic Album" award for "Solo Ride", his solo piano CD. His most recent albums include, "Get Your Groove!" (American Showplace Music, 2018) and his critically acclaimed solo piano CD, "Solo Ride" (American Showplace) in August of 2019. The Bruce Katz Band is an original, very exciting group of musicians that combine Blues, "soul-jazz", and New Orleans-inspired roots music. Based in Woodstock, NY, Bruce Katz occupies a unique space where blues and the many aspects of Americana music collide into a style of original music all his own. The band has a trademark sound, blending the B3 organ and guitar in unique and inventive ways.
Giles Robson – Harp
Blues Music Award Winner Giles Robson, born in 1978 in England, has recorded four albums and has won fans and headlined festivals all across the UK, Europe and even Russia. A lifelong blues disciple, he knows and understands tradition but is unafraid to take the music in unexpected directions. His most recent CD is 2018's Journeys To The Heart Of The Blues with Joe Louis Walker and Bruce Katz on Alligator/Munich Records won a Blues Music Award For the acoustic album of the year 2019. He picked up his first harmonica at age 14 and soon after saw a concert by American Piedmont blues duo Cephas Wiggins at his local arts Centre. From then on, he was hooked on the blues. Blues Matters (UK) says, "Robson is a world-class harpist. He has the authority, confidence, and expertise associated with legends."
Aaron Lieberman – Guitar
Received his Bachelor of Music degree in jazz guitar from Manhattan School of Music. During that time, he helped to form the rock band, God Street Wine. During their 11-year run, God Street Wine recorded three major-label albums and toured extensively throughout the United States, Canada, and Europe, sharing the stage with artists such as Bob Dylan, The Allman Brothers, and The Black Crowes. Since that time, Aaron has enjoyed playing many different styles of music, including rock, jazz, and even klezmer, and has written and/or performed with various artists in and around New York City.
Antar Goodwin – Bass
Groove is at the heart of Antar Goodwin's playing. This fact has made him one of New York's first-call players. Equally comfortable in the studio and on the stage, he has played electric and acoustic bass on many of NYC's best stages. Born in Philly, bassist and composer Antar spent the early part of his life moving with his family. He had a desire to play that showed at a very early age. By the age of five, he was playing drums, and by seven piano and classical violin. By the time he was in his teens he traded in his violin and was playing bass, guitar, piano, and began to seriously write songs. Already a Berklee College of Music alumni, Antar next received a scholarship to study at Kripalu, in Lenox MA. Since graduating he has collaborated withSting, Lauryn Hill, Abbey Lincoln, Benny Golson, and Patti Smith
Ray Hangen –Drums
With a professional career starting at the early age of seventeen, drummer Ray Hangen defines the term "deep in the pocket." Whether playing blues, country, funk, jazz, rock, R&B, or zydeco, Hangen hits a hard and hot beat as steady as it grooves, preferring subtle and tasteful fills and flashes, to any hint of bombast. No matter the setting or style, the pocket is locked in when Ray Hangen is behind the kit. In 2004, Hangen was asked to join the band of lauded Atlanta blues artist, the great Sean Costello. During Ray's time with the late guitarist, they recorded three internationally released recordings and kept up a busy national and international touring schedule. Over the years, Hangen has been hired by many renowned blues artists for full tours, recording sessions, and special appearances. These artists have included Joe Beard, Lurrie Bell, Eddie Kirkland, Lou Pride, Joe Louis Walker, Kenny "Blues Boss" Wayne, Ana Popovic, Greg Gumpel, Altered Five Blues Band, Josh Roberts, and John Nemeth. Hangen has also played with the great Francine Reed, the legendary Bryan Lee, B3 organ great Tony Monaco, Grammy-award winning Tom Hambridge, Corey Glover of Living Colour, and the iconic Kim Wilson.
"He can play jazz, blues, Bach, anything. Man, he's a heavy!" – Gregg Allman
"This man is as good as it gets. One of the greatest keyboard artists I've ever heard" – John Hammond
"Now, that's a piano player! – Pinetop Perkins
"I've rarely heard anyone so at home with their instrument and so authoritative in such a wide range of styles. Extraordinary comes to mind. Katz' command of his instrument ranges from casual to brutal, providing every shade of emotion that a full band could elicit from any listener." – Tom O'Connor, Rock and Blues Muse Review
"Katz has a broad musical intellect of a very high order…a true individualist, he unleashes perfectly turned phrases that travel through blues, boogie-woogie, stride, spirituals, New Orleans R&B, Ramsey Lewis soul-jazz, and even a country waltz." – DownBeat magazine
"I marvel at not only his dexterity but his feeling and soul…the spirit of New Orleans seem to shine on everything Katz plays… "transcendently wonderful…" -Goldmine magazine
"All the foundational elements of jazz and blues piano are here with the signature Katz touch. Katz is in top form, again demonstrating why he is so highly acclaimed in the roots and blues genres." -Jim Hynes, Glide Magazin