Fre. 10. nov. 18:00 – 19:10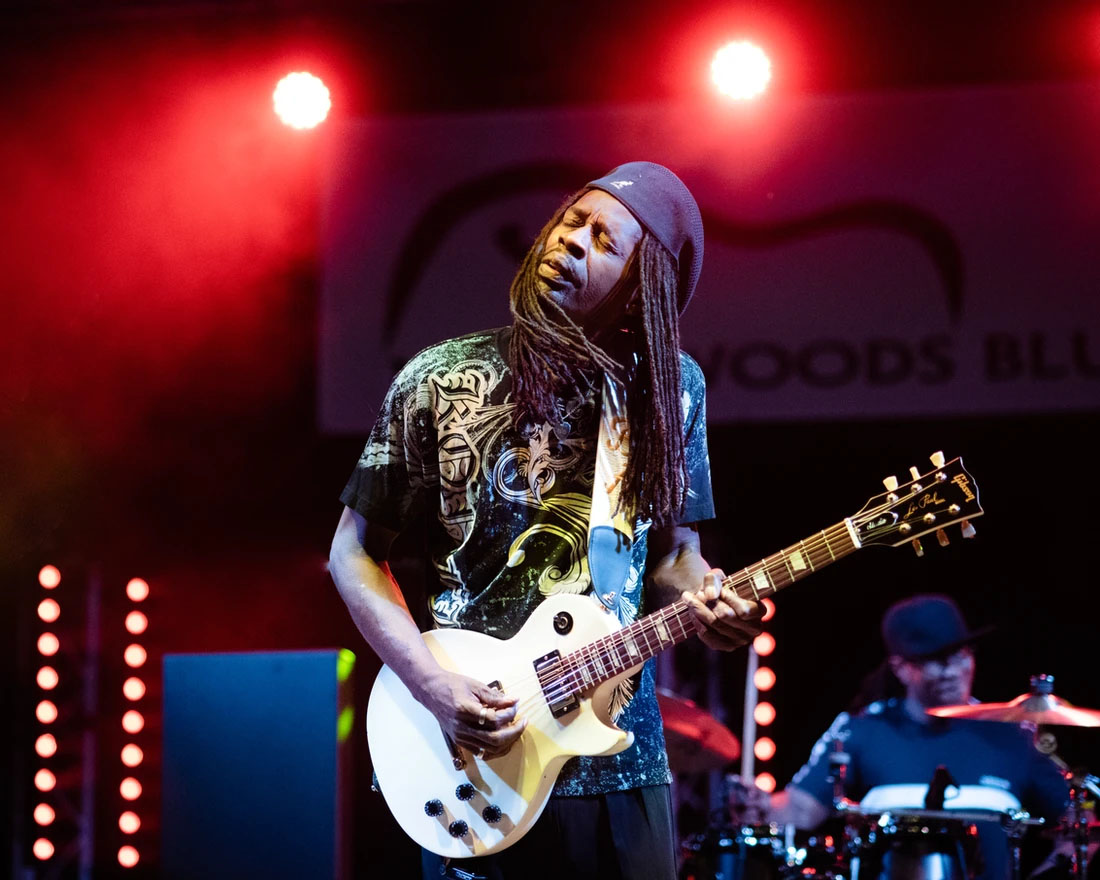 Bernard Allison - Serious
| | |
| --- | --- |
| Bernard Allison | Guitar, vokal |
| Eric Cannevaro | Keyboards |
| George Moye | Bass |
| Allan Matthew Kimathi | Trommer |
| | |
BLUESSTJERNEN BERNARD ALLISON TIL BLUES HEAVEN
Der er intet som lyden af en verdensklasse-bluesmand og dette er en kunstner, der har blues i blodet fra fødslen. Bernard Allison blev født 1965 i Chicago og han fik bluesmusikken ind under huden allerede som knægt, når han tog med sin far Luther Allison på arbejde og mødte folk som Muddy Waters, Albert King og Willie Dixon.
Bernard sad ofte hjemme i Chicago i 1970'erne og øvede sig, når Luther Allison optrådte på alverdens festivaler og spillesteder. Da Bernard var 12 år, viste han sin far, hvad han havde lært, og Luther Allison kvitterede ved at forære sønnen en Stratocaster med besked om, at hvis han passerede sin skolegang, så kunne han komme med på Chicago Blues Festival. Men uanset sit mesterlige ophav, så er han først og fremmest sig selv med sin egen musik, og logistisk har han for længst skiftet Chicago ud med Minneapolis.
Allerede ugen efter at Bernard Allison forlod gymnasiet, begyndte han at få masser af spille erfaring ved at turnere som medlem af Koko "Queen Of The Blues" Taylors band, som han spillede med gennem det meste af 1980'erne. Da han var 23 år, blev Bernard Allison medlem af sin fars band og skrev og indspillede tre albums i samarbejde med Luther. Bernard var første gang i Danmark med sin far på Djurs Bluesland festivalen i 1989.
Populariteten eksploderede i 90'erne for Bernard Allison med albums som The Next generation (1990), No Mercy (1994) og Funkifino (1995). Bernard Allison's højt roste og store amerikanske gennembrud kom i 1997 med "Keepin' The Blues Alive" samme år, hvor han mistede sin legendariske far.
I 57 år har musik været essensen af Bernard Allison. Her efter corona nedlukningen er Bernard Allison på ren optur. Det seneste album (nr. 20 i rækken) "Highs and Lows", befandt sig i flere uger på Billboard Top US Blues Albums liste som nummer 1. Det er – som altid – electric blues og bluesrock. Anmelderne betragter allerede nu det nye albums som Allison's allerbedste.
Bernard Allison
There's nothing like the sound of a world-class bluesman getting back to business. Last October, when Bernard Allison returned to his old haunt of Bessie Blue Studios, Tennessee, to be greeted by fabled producer and career-long collaborator Jim Gaines, it felt like coming home.
And when Allison fired up the amps, counted in the band and embarked upon his latest studio album, Highs AndLows, everything felt right with the world. "Just to be able to create music again after the pandemic," he says of that long-awaited rebirth, "was incredible.
"For 56 years, music has been Bernard Allison's essence. As the youngest son of the much-missed Chicago bandleader Luther Allison, he was a bluesman from birth. One week after graduating high school, Bernard cut his teeth on the road with Koko Taylor's Blues Machine lineup–and ended up staying for most of the '80s. By the close of the decade, however, he assumed a twin identity, leading and writing for his father's band, while forging a solo career that exploded inEurope off the back of early albums like The Next Generation (1990), No Mercy (1994) and Funkifino (1995).
Now, released in February 2022 on Ruf Records, Highs And Lows sees Bernard acknowledge his lineage through two classic songs by his father–Gave It All and Now You Got It–while offering nine originals. Try the irresistible groove ofHustler: a funk gem written by Bernard with Andrew Thomas, whose horn-and-harp groove evokes the strut of the title character. Or the masterful Last Night, which shifts tempo from an upbeat chop to a weeping slow-blues, capturing the changing moods of a man chasing his runaround woman. As for the title track, Bernard says it speaks for anyone left bemused by life's rollercoaster: "It's a part of life, the ups and downs that everyone deals with.
"Right now, with a new album of stellar material to take out on his New Year tour, Bernard Allison is back in the ascendency–and the man can't wait to return to his natural habitat. "The song So Excited is basically about the excitement of being able to be back on the road again," he says. "I think everyone can relate to that."