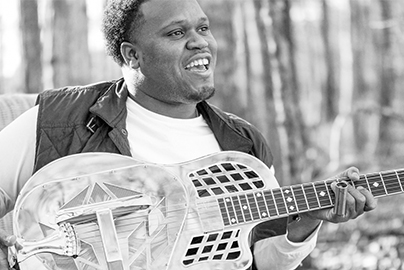 Lineup:
Jontavious Willis
Voc, guitar
Date: Saturday, 21:00 – 22:30
Scene: Cafe scene
Jontavious Willis
Every generation or so, a young bluesman bursts onto the scene and sends a jolt through the blues community.  Jontavious Willis may just have that effect on people. The 24-year-old multi-instrumentalist was nominated for a GRAMMY in 2020 thanks to his latest album, Spectacular Class. Through original lyrics written by Willis himself, the gifted musician delivers a timeless album that features dynamic vocals and all types of blues: Delta, Piedmont, Texas, and Gospel. His stand-out fingerpicking, flat-picking, and slide prowess are also on display.
GRAMMY award-winning artists Taj Mahal and Keb' Mo' played an active role in producing Spectacular Class with Taj Mahal credited as Executive Producer and Keb' Mo' as the Producer. In addition to its digital release, the album will also be available on CD and vinyl.
Hailing from Greenville, Georgia, Willis grew up singing Gospel music at the Mount Pilgrim Baptist Church with his grandfather. Since an early age, he had the talent and passion for the music and the ability to sharpen his skills fast.  At the age of 14, he came across a YouTube video of Muddy Waters playing "Hoochie Coochie Man" and was instantly hooked on the blues.
He got his much-needed break from the living legend Taj Mahal, who described him as the "Wonderboy" and "the Wunderkind." In 2015, Mahal asked Willis to play on stage with him. That appearance resulted in a roaring response from the audience and led Willis to bigger stages and broader opportunities, including an opening slot at select shows along the TajMo tour, featuring his musical mentors Taj Mahal and Keb' Mo'.
Many fans of Willis regard him as an old soul. His style of playing the instruments and his voice touches the very roots of country blues. He brings back the true soul of the music. A newspaper headline once called him a "70-year-old bluesman in a 20-year-old body."
Spectacular Class is the follow-up release to his debut album, Blue Metamorphosis, which was released in 2016 and garnered him rave reviews from such notable magazines as Living Blues and Blues & Rhythm. In 2018, the album earned recognition by the Blues Foundation through their International Blues Challenge, where he was honored with the Best Self-Produced CD Award.
What do the blues mean to you?
To me the blues is the most important musical genre and the roots of many others. Deeper than that it is a cultural thing for me and my heritage. I feel when I play the blues I am connecting with those before me and presenting it to others, a spiritual type thing.
How do you describe your sound?
My instrument sound is simple; my voice is what I put on the forefront. I feel that's what the blues is about. When you start focusing on your instrument more than vocals you are forgetting the purpose of the blues, which is to tell a story.
How do you connect as a young black man in the 21st century with the music of your great-great grandfather?
In some aspects the same problems of those day are still occurring. Out of all the current music I connect with the blues the best. The same blues songs of the Jim Crow era can still be sung today. The songs about getting mistreated and abused are still fights we battle daily.
"Jontavious Willis. That's my Wonderboy, the Wunderkind. He's a great new voice of the 21st Century in the acoustic blues. I just love the way he plays. He has really just delightful timing and a real voice for the music because he was raised in the tradition and the culture. It's just wonderful to hear him sing. The way he tunes his guitar is just amazing. There's not a bluesman alive that could pick his instrument up and play it. You'd have to sit there for a good while to figure those tunings out.
I had an opportunity to have him grace my stage when I came to Atlanta. He had a thunderous response from the audience. It was just so great. I'm very, very particular and very private about my stage so – and if somebody is on it giving the full run to go, you know that they must be able do whatever it is that they say they can do, and I say that he can do it and more. So I'm just excited that he has a wonderful and amazing future and he's got a great sound, and we are all lucky to be at this point when this man is starting to launch is going to be an incredible and long career."
-Taj Mahal
"When I heard him play I said to myself: this is how the blues, as I know it, is going to stay alive. Jontavious Willis is the first blues musician I've seen in over thirty years that I would pay to see – and he's only 20 years old! I've seen the best. Jontavious is the real deal." [Paul Oscher, noted blues musician who has toured with Muddy Waters, Louisiana Red and countless others]
"Meet Jontavious Willis, the living proof in the current class of blues-death deniers. Only a few like him emerge every decade or so, when even the most hard core blues fans realize immediately that this is the real deal, a player and singer whose got it all: Deep roots feeling, instrumental prowess and a voice that carries the heart and soul of the blues with unwavering connection to the ancient roots. Not long ago people said that of Jerron Paxton, and now Jontavious Willis deserves to be celebrated as one of the brilliant new voices." [Frank Matheis, Living Blues Magazine; April 2016]