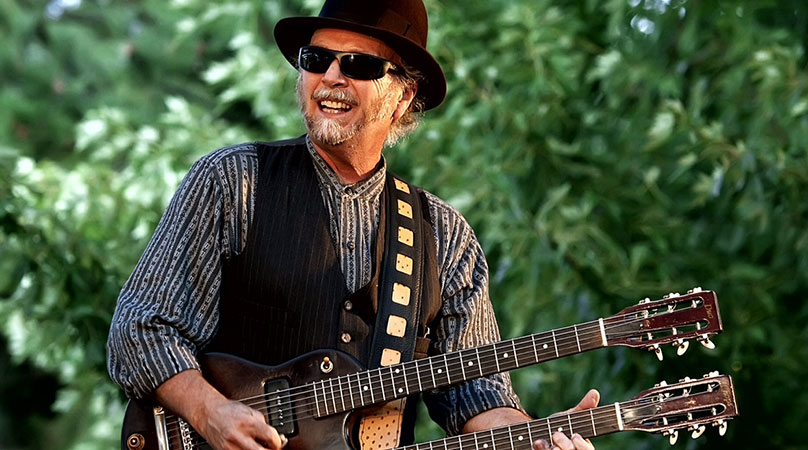 Roy Rogers - Terraplane Blues
| Line up | |
| --- | --- |
| Roy Rogers | Guitar, vokal |
Roy Rogers
Sangeren, guitaristen og sangskriveren Roy Rogers blev født i Californien i 1950, fik som helt ung kærlighed til bluesmusikken da hans ældre bror bragte et album af Robert Johnson med hjem. I 1978 pladedebuterede de to år senere med »A foot in the door«
Som solist debuterede Roy Rogers i 1985 med albummet »Chops not Chaps» Omtrent på dette tidspunkt blev Rogers inviteret til at slutte sig til John Lee Hooker's Coast to Coast Blues Band. Samarbejdet blev frugtbart for dem begge, og Roy Rogers producerede Hookers store comeback-album »The healers» (1989) og tre efterfølgende album med legenden. På soundtracket til »The hot spot» (1990) spillede de to sammen med Miles Davis og Taj Mahal.
Samtidig fortsatte Roy Rogers med at turnere med sit band, The Delta Rhythm Kings og op igennem 90'erne turnerede en snese turneer i Danmark. Samtidigt med Han udgiver plader i eget navn, enten som solist eller i duo-samarbejder med Norton Buffalo, Shana Morrison, norske Reidar Larsen og The Doors-organisten Ray Manzarek. Det seneste udspil fra Roy Rogers er albummet Into the wild blue (2015).
Roy Rogers er anerkendt som en af sin generations bedste slide-guitarister. Han er flere gange nomineret til Blues Music Awards i "Blues Instrumentalist – Guitar"-kategorien, lige som han har flere Grammy-nomineringer på cv'et både som udøver og som producer.
Roy Rogers
Born in Redding, California in 1950, Roy began playing guitar at twelve years of age.  A year later at age 13, he was performing in a rock 'n' roll band that wore gold lame jackets and played Little Richard and Chuck Berry tunes. He discovered the great blues players early on, especially when his older brother brought home an album by Robert Johnson. Thus began his love of the blues, slide guitar in particular, which had an immediate effect on Roy, who was indeed named after the King of the Cowboys. Through the years he developed a distinctive style of playing slide guitar that not only emerged, but one that is instantly recognizable.
During the 1960's Rogers frequented the San Francisco rock clubs where he saw many of the blues greats who inspired him.
Roy performed with various groups until 1976, when he and harmonica player David Burgin formed an acoustic duo and recorded an album Rogers And Burgin: A Foot In The Door for Waterhouse Records. They also played on the One Flew Over the Cuckoo's Nest movie soundtrack before the duet ran it's course.  Rogers then formed his own band in 1980, the Delta Rhythm Kings, hit the club circuit, played a few more movie and television gigs, and toured Europe with the 1982 San Francisco Blues Festival Revue (recording an album with that Revue in Paris).
In 1985 he released his first solo album, Chops Not Chaps on his own label, which received widespread radio play and was nominated for a W.C. Handy Award.  In 1987, Blind Pig released his second solo album, Slidewinder.  It includes fantastic duets with Hooker and New Orleans piano great Allen Toussaint, as well as songs with his own band. The rave reviews in the national press and extensive radio play that followed further enhanced Roy's growing reputation. Roy's third solo release, Blues On The Range was also issued on Blind Pig in 1989 and continued to win new fans to his incredible slide guitar, arrangements and songwriting skills.
Shortly after returning from Europe, Rogers was asked to join John Lee Hooker's Coast to Coast Blues Band. During the four years he toured with Hooker as a featured guitarist/vocalist, Rogers established a strong personal and professional relationship with the venerated blues legend. Said Hooker, "I just can't say enough good things about Roy. He plays so good. Some of the best slide I've heard, best blues I've heard. He gets real deep and funky, and he masters whatever he plays." Near the end of his tenure in Hooker's band, Roy began to open shows as a solo act, giving him a chance to perform some of the classic country blues and original compositions he'd been perfecting for years.  He then went on to produce the historically important four recordings for John Lee Hooker.  "The Healer"  "Mr. Lucky"  "Boom Boom"  "Chill Out" – some tracks involving co producer credits with Ry Cooder and Van Morrison.
Roy's musical talents were featured on the soundtrack for the 1990 film The Hot Spot, which he recorded with Miles Davis, John Lee Hooker and Taj Mahal and which also garnered a Grammy nomination. In 1991, Rogers hooked up with another Bay Area artist, harmonica virtuoso and vocalist Norton Buffalo to produce the highly acclaimed release R & B. The album is a true American array of acoustic tunes from blues to ballads capturing the incredible chemistry of these powerful performers. The cut "Song For Jessica" received a Grammy Award nomination in 1991 and another track, "Ain't No Bread In The Breadbox" was made into a performance video which received airplay on many outlets, including The Nashville Network.
The duo came back in 1992 with the Blind Pig release Travellin' Tracks, featuring live performances as well as studio tracks where they are joined by a rhythm section on several cuts. The dynamic interplay between the pair is undeniable and the release furthered the artist's already outstanding reputations.
The 2000's have been a VERY productive recording period for Roy, greatly expanding his collaborations with other artists, as well as his own solo recordings. In 2002, he recorded a last album with Norton Buffalo titled Roots of our Nature.  In 2004 he released his first-ever live recording of his own band, featuring some very special guests (the video of which became part of the PBS TV series, Music Gone Public). The self-released Everybody's Angel was recorded with Shana Morrison who toured with Roy extensively in the early 2000s. In 2006 he collaborated with Reidar Larsen for a release in Norway of The Crossing. In 2009 he recorded Split Decision for Blind Pig records. Roy then teamed up with Ray Manzarek and their joint efforts produced three recordings in eight years –  Ballads before the Rain, Translucent Blues and Twisted Tales.  Starting out as a duet, they soon formed a band together and toured throughout the U.S. and also in Europe. Their collaboration and friendship has been wonderfully captured in a documentary film to be released in 2017. Roy's 2015 release  Into the Wild Blue (June 2015)  proves he and The Delta Rhythm Kings are at the top of their game. StringShot, Rogers' additional band formed in 2015, features renowned Brazilian guitarist Badi Assad and harpist/violinist extraordinaire Carlos Reyes; their self-titled album debuted in August of 2018.