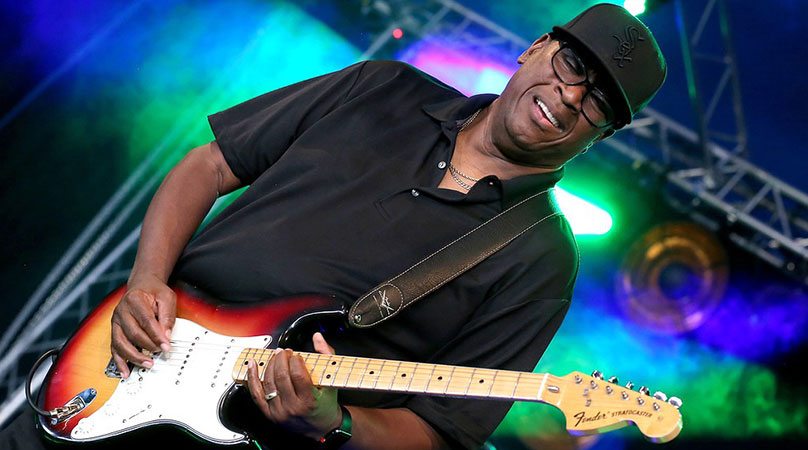 Mike Wheeler Band - My Big Mistanke 2022
| | |
| --- | --- |
| Mike Wheeler | Gui, Vokal |
| | Keyboard |
| | Bas |
| Pascal Dalmes | Drums |
| | |
Mike Wheeler
Michael Lewis Wheeler (født 30. juni 1961) i Chicago er sangskriver, vokalist og guitarist. Hans første koncert var med Muddy Waters' klaverspiller, Lovie Lee.
Han dannede sit eget band, Mike Wheeler Band, i 2001. Hans førrste cd, »Self Made Man«, blev udgivet af Delmark Records i 2012 med kritikerros. Han optræder fast i alle de store Chicago bluesklubber og på Chicago Blues Festival.
Mike Wheeler har et stort kendskab til musik og en stemme, der minder om afdøde Sam Cooke. Han synger og spille så godt, at du måske glemmer, hvordan den originale plade overhovedet lyder. Fra jazz til rock, fra populærmusik til Top 40, glider han ind og ud af musikgenrer med sofistikering, lethed og nydelse.
Mike Wheeler er en genial basis i Chicagos bluessamfund, han spiller med og skriver sange for en række Chicago-kunstnere. Mike var et velkendt medlem af Big James & The Chicago Playboys, et bemærkelsesværdigt band i Chicago, og indspillede fem albums med gruppen. Han har rejst verden rundt som ambassadør for Chicagos bluesmusik. Han har været i Monaco, Frankrig, Schweiz, Spanien og Belgien, for blot at nævne nogle få. Han har også delt scene med de fleste elitemusikere i verden, dette er inklusive Buddy Guy, B.B. King, George Benson, Jimmy Johnson, Koko Taylor og Shemekia Copeland.
Mike blev optaget i Chicago Blues Hall of Fame i 2014.
Mike Wheeler
Michael Lewis Wheeler (born June 30, 1961) is a Chicago songwriter, vocalist, and guitarist. His first gig was with Muddy Waters' piano player, Lovie Lee. He formed his own band, the Mike Wheeler Band, in 2001. His CD, Self Made Man, was released by Delmark Records in 2012 with critical acclaim. He is a regular performer in all the major Chicago blues clubs and at Chicago Blues Festival.
Mike Wheeler has a vast knowledge of music and a voice that's reminiscent of the late Sam Cooke. He can sing and play everything so well that you may forget what the original record even sounds like. From Jazz to Rock, from popular music to Top 40, he slides in and out of musical genres with sophistication, ease and indulgence. Mike Wheeler is a brilliant staple in the Chicago blues community, playing and writing songs for a variety of Chicago artists including, Nellie Tiger Travis, Peaches Staten, Sam Cockrell, Demetria Taylor, Big Ray & Cadillac Dave. Mike was a well-known member of Big James & The Chicago Playboys, a notable band in Chicago, and recorded five albums with the group. He has traveled the world as an ambassador for Chicago blues music. He's been to Monaco, France, Switzerland, Spain and Belgium, just to name a few. He's also shared the stage with the most elite musicians the world has known, including Buddy Guy, B.B. King, George Benson, Jimmy Johnson, Koko Taylor, and Shemekia Copeland.
Mike was inducted into the Chicago Blues Hall of Fame in 2014.