Fre. 10. nov. 22:15 – 23:25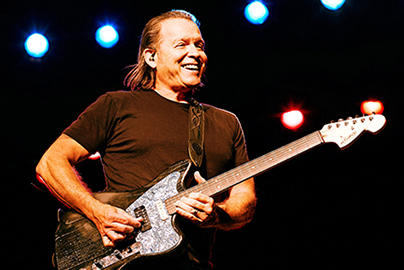 | Lineup | |
| --- | --- |
| Tommy Castro | Guitar & vocals |
| Mike Emerson | Keyboards |
| Randy McDonald | Bass |
| Bowen Brown | Drums |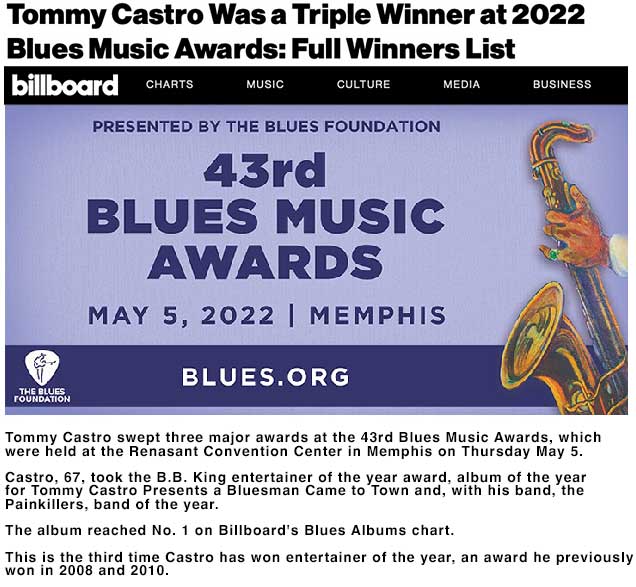 43RD ANNUAL BLUES MUSIC AWARDS VINNER!
✅ B.B. King Entertainer Of The Year
✅ Album Of The Year
✅  Band Of The Year
West Coast bluesrockeren Tommy Castro har siden 1994 udgivet 21 albums på adskillige Selskaber. De sidste syv udgivelser er på Alligator Records, verdens største blues pladeselskab.
Bandet har spillet 200 koncerter om året for et loyalt og stadigt voksende publikum og vundet priser samt respekt fra sine kollegaer.
Tommy Castro er født i San Jose, Californien i 1955, og begyndte at spille guitar i en alder af 10 år og hentede inspiration fra Muddy Waters, B.B. King, Freddie King, Buddy Guy og Elmore James. Hans syngende forbilleder er Ray Charles og James Brown.
I en alder af 20 begyndte han at udvikle sin egen stil, en ekstravagant blanding af blues og soul, som beskrive som "Funky Southern Soul, Big City Blues og Classic Rock". Tommy Castro Band har spillet over 6.000 koncerter verden over og fejrer nu deres 30 års bandjubilæum med udgivelsen af deres seneste album »A Bluesman Came To Town«.
Gennem sin lange karrierer har guitaristen, sangeren og sangskriveren Tommy Castro altid været tro mod sig selv, alt imens han har udforsket, og skabte ny musik, har han har taget sine tusindvis af hengivne fans med sig.
Lige fra horn-drevet R&B til sprudlende hot blues til brændende, rock 'n' roll, er hver udgivelse solidt bygget på Castros urokkelige musikalske fundament – en dynamisk blanding af 1960'er-influeret blues, der vidner om Memphis soul og San Jose funk, alt sammen drevet af Castros vokal og passionerede guitarspil.
Blues Revue erklærede: "Tommy Castro kan ikke gøre noget forkert." om Castros nye album, en rootsmusik-odyssé med titlen "A Bluesman Came To Town", fortæller han en tidløs historie. Dette specielle projekt blev komponeret af Castro sammen med den Grammy Award-vindende producer Tom Hambridge.
Gennem de 13 sange fortæller »A Bluesman Came To Town« historien om en ung mand, der arbejder på sin familiegård, og som bliver bidt af bluesfeberen. Han mestrer guitaren og begiver sig ud på vejen for at søge berømmelse og rigdom, kun for at finde af , det han har efterladt, er den skat, han har ledt efter. Hver mindeværdig sang – fra det blæsende titelnummer til det bønfaldende »Child Don't Go« til den håbefulde »I Caught A Break« bidrager til den større historie.
"Jeg kan godt lide at holde tingene friske og interessante" siger Castro, "Tom Hambridge og jeg har længe talt om at lave en plade sammen. Samarbejdet med ham var endnu bedre, end jeg havde forestillet mig. Jeg havde en disposition for historien, og så talte Tom og jeg om det, og sangene begyndte bare at vokse organisk ud af hinanden." Castro fortsætter: "A Bluesman Came To Town er ikke en historie om mig. Det er dog hentet fra nogle af mine venners og egne oplevelser. Jeg har set på egen hånd i mange år, hvordan det er derude på vejen."
Han har rejst hundredtusindvis af kilometer og optrådt tusindvis af koncerter, hvor han har ledet sine bands på klubber, koncertsale og festivaler over hele verden. Den berømte guitarist Joe Bonamassa siger: "Tommy har altid været toppen blandt bluesguitarister. Han leverer altid et fantastisk show."
Som teenager i San Jose oplevede Castro alle større rock- blues og soul stjerner, ligefra Ike og Tina Turner til Janis Joplin til J. Geils Band til Tower Of Power, som turnerede gennem området, Castro var til hvert show. Han så John Lee Hooker, Albert King og Buddy Guy og Junior Wells på den samme lokale bluesbar, hvor han ofte jammede og drømte om en dag at at det skulle være ham.
Ved at blande blues og rock and roll med soulmusikken, begyndte Tommy at skabe sin egen personlige lyd og stil. Han finpudsede sine guitarfærdigheder og intense vokal og lærte at fange et publikum, mens han optrådte på San Franciscos stærkt konkurrenceprægede klubscene. Efterhånden som hans ry spredte sig, spillede Tommy i en række bands, og fik snart et navn for sig selv som en hotter-end-hot livekunstner.
I 1985 sluttede Tommy sig til Warner Brothers' kunstnere The Dynatones og optrådte over hele landet. Han dannede den første Tommy Castro Band i 1992 og har turneret lige siden. I 1995, kort efter at have udgivet sit første album på Blind Pig Records, blev The Tommy Castro Band valgt som house-band i tre sæsoner på NBC Televisions Comedy Showcase (som sendes lige efter Saturday Night Live). Showet bragte ham foran millioner af seere hver uge og cementerede hans ry som nationalt turnerende live-artist.
Efter en række succesfulde udgivelser på Blind Pig, Telarc og 33rd Street, sluttede Tommy Castro sig til Alligator Records i 2009. Hans debut på pladeselskabet, »Hard Believer«, blev udgivet til massiv fanfare. Med albummet vandt Castro fire Blues Music Awards, inklusive den eftertragtede B.B. King Entertainer Of The Year Award (den allerhøjeste pris, en blues-artist kan modtage). I 2012 justerede Castro sin musik til dens rå essens og skabte en højenergisk, "bigger Than Life" lyd med dannelsen af The Painkillers. Tommy Castro & The Painkillers' første udgivelse, »The Devil You Know«, blev modtaget af hans legion af fans og opdaget af mange nye. Med den nuværende version af The Painkillers (bassist Randy McDonald, trommeslager Bowen Brown og keyboardspiller Michael Emerson) udgav Castro »Method To My Madness« i 2015, »Stompin' Ground« i 2017 og den uimodståelige »Killin' It–Live« i 2019. er et af de mest efterspurgte live-roots-musik-acts, der optræder i dag. Castros ubarmhjertige tilgang – koncert efter koncert, aften efter aften – har givet ham loyale, livslange fans overalt, hvor han spiller.
"Jeg har lavet syv albums for Alligator," siger Castro, "og jeg har aldrig lavet den samme plade to gange. Jeg vil altid forsøge at være mit mest autentiske jeg. Jeg giver det alt, hvad jeg har, hver gang vi går på scenen!"
Washington Post siger, at Castro er "fænomenal og funky" med "sjælfuld vokal og inspireret bluesguitar."
San Francisco Chronicle beskriver Castros musik som "funky sydstatssoul, storbyblues og klassisk rock … Der på én gang lyder velkendte og friske."
No Depression siger: "Castro spiller hård blues som et løbsk tog … en herlig blanding, der ryster sjælen og løfter humøret."
Tommy Castro
"Castro's aggressive, inspired attack on vocals and guitar is phenomenal." –Washington Post
Whether he's squeezing out the deepest blues or playing the funkiest soul grooves, legendary blues and soul giant Tommy Castro knows how to ignite a crowd. Over the course of his still-unfolding career, the guitarist, vocalist and songwriter has released 15 albums ranging from horn-fueled soul and R&B to piping hot blues to fiery rock 'n' roll. He's performed all over the world, earning countless fans with his legendary, sweat-drenched, exhilarating live shows. Castro's band, The Painkillers—bassist Randy McDonald, drummer Bowen Brown  and keyboardist Michael Emerson—have now been playing together over four years. After hundreds of live shows, they have coalesced into one of the telepathically tightest units Castro has ever assembled, making them one of the most in-demand live roots music acts performing today. Billboard says the band plays "irresistible contemporary blues-rock" with "street-level grit and soul."
With the group seemingly hitting new heights with every performance, Castro knew the time was right to answer his fans' demands for a live album. Killin' It–Live captures the band at the peak of their creative and improvisational powers, and features one unforgettable, unpredictable performance after another. "This is the best band we've ever had," says Castro. We really got something going on beyond just being good musicians. Every song we play live now has that right feel—all the dynamics. It allows us to jam out more on stage. Killin' It–Live is what you hear when you see us live."
"Tommy Castro & The Painkillers showcase the power of the blues, soul and down-and-dirty rock 'n' roll…rousing and infectious. This is energizing, scorching, soul-shaking music….pure pleasure." –Living Blues
Featuring songs from throughout Castro's career, Killin' It–Live was produced by Castro and engineer/songwriter Ron Alan Cohen and recorded at venues in Texas, New York, Michigan and California during 2018. The album includes eight Castro originals spanning his entire career and two Castro-ized covers, each showing a slightly different side of his multifaceted musical personality. From fan favorites She Wanted To Give It To Me and Make It Back To Memphis to newer classics like Lose Lose and Two Hearts to Taj Mahal's arrangement of Sleepy John Estes' Leaving Trunk (a song Castro has never recorded before but has been playing live for years), Killin' It–Live is a nonstop, spirited mix of blues, rock and soul, with rollicking, hypnotic grooves fueled by Castro's animated, fervent vocals.
Born in San Jose, California in 1955, Tommy Castro first picked up a guitar at age 10. He fell under the spell of Eric Clapton, Elvin Bishop, Taj Mahal, Mike Bloomfield and other blues-rockers. Almost every major rock and soul act, from Ike and Tina Turner to Janis Joplin to Elvin Bishop to Taj Mahal, toured through the area, and Castro was at every show. He saw John Lee Hooker, Albert King and Buddy Guy and Junior Wells at the same local blues bar, JJ's, where he often jammed, dreaming of one day busting out. Mixing the blues-rock he loved and the soul music he heard blasting out from his Mexican friends' lowriders, Tommy started to create his own personal sound and style. He honed his guitar skills and intense vocals, learning how to capture an audience as he performed on San Jose's highly competitive bar scene. As his reputation spread, Tommy played in a variety of Bay Area blues and soul bands, soon making a name for himself as a hotter-than-hot live artist bursting at the seams with talent. In 1985, he was recruited to become lead singer and guitarist for the regionally popular blues band NiteCry, gigging regularly throughout Northern California.
"Pure, funky, old-school soul…Castro lays stinging guitar lines around his throat-searing vocals." –No Depression
Castro joined Warner Brothers' artists The Dynatones in the late 1980s, performing all over the country. He formed the first Tommy Castro Band in 1991, releasing his debut album in 1996 on the Blind Pig label. In the mid-1990s The Tommy Castro Band served as the house band for three seasons on NBC Television's Comedy Showcase (airing right after Saturday Night Live), bringing him in front of millions of viewers every week. During the 1990s and into the 2000s, Castro recorded a series of critically acclaimed CDs for Blind Pig, Telarc and 33rd Street Records, as well as one on his own Heart And
Soul label.
Castro joined Alligator Records in 2009, releasing Hard Believer to massive acclaim. He won four of his six career Blues Music Awards, including the coveted B.B. King Entertainer Of The Year Award (the very highest award a blues performer can receive). His next release, 2011's Tommy Castro Presents The Legendary Rhythm & Blues Revue–Live!, was a boisterous and searing collection of highlights from a series of live performances anchored by Castro and an all-star collection of blues giants, including Rick Estrin, Michael "Iron Man" Burks and Joe Louis Walker. His relentless road-dog approach—gig after gig, night after night—has won him loyal, lifelong fans everywhere he plays. The Washington Post says Castro is "phenomenal and funky" with "soulful vocals and inspired blues-rock guitar."
"Tommy Castro is a soulful singer and stinging guitarist…gritty, funky, and rocking." –Boston Globe
Castro formed the first incarnation of The Painkillers in 2012, and by 2014 (with Brown and Emerson taking over drums and keys respectively) they had become a lean, mean four-piece lineup, delivering soul-shaking, muscular music. The current band released Method To My Madness in 2015 and Stompin' Ground in 2017, with critics shouting praise and admirers cheering the group's every move. Castro had stripped his music down to its raw essence with the new, smaller band, creating a larger than life sound. Blues Revue said simply, "Tommy Castro can do no wrong."
Live on stage, Tommy Castro & The Painkillers' road-hardened musicianship brings an unmatched passion to Castro's blue-eyed California soul and hard-rocking, good-time songs. The San Francisco Chronicle describes Castro's music as, "funky Southern soul, big city blues and classic rock…silvery guitar licks that simultaneously sound familiar and fresh." No Depression says "Castro plays gritty, string-bending blues like a runaway soul train…a glorious blend that rocks the soul and lifts the spirits." Killin' It–Live captures the live power and raw passion of Tommy Castro & The Painkillers. It's the next best thing to being there.