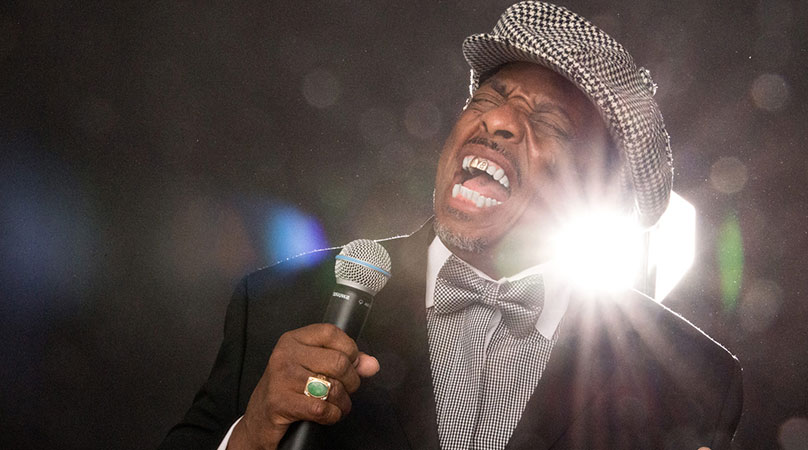 Alabama Mike does M.I.S.S.I.S.S.I.P.P.I. - With the Greaseland All Stars
| Lune Up: | |
| --- | --- |
| Alabama Mike | Vokal, Blues Harp |
| Max Genouel | Guitar |
| Damien Cornelis | Keyboards |
| Julien Dubois | Bass |
| Fabrice Bessouat | Drums |
Alabama Mike
Alabama Mike, sangeren, der blev født som Michael Benjamin for 48 år siden i Alabama, er en højt respekteret sanger og sangskriver, som på listen over sine samarbejdspartnere kan skrive navne som Rick Estrin, RJ. Mischo, John Németh, Anson Funderburgh, Bob Corritore, Billy Price og Kid Andersen.
Mike har god grund til at synge blues. Han havde et fuldtidsjob som lastbilchauffør, hvor han kørte varer i en 18-wheelers truck fem, nogle gange seks dage om ugen. Hans bijob som bluessanger begyndte at tage fart, og han var netop blevet nomineret af Blues Foundation i Memphis som "årets traditionelle mandlige blueskunstner." (Han tabte til Charlie Musselwhite.)
Så udviklede han en vedvarende, smertefuld hoste. Han ville først ikke gå til lægen, og troede, at det bare var en forkølelse, men hans kæreste insisterede. Han blev diagnosticeret med dobbelt lungebetændelse, men det blev til sidst opdaget, at han havde dalfeber, som den blev kaldt på grund af dens udbredelse i Californiens Central Valley. Mike havde den værste type – spredt dalfeber – og han var sengeliggende i sin lejlighed med en dræn i armen i et år. "Jeg havde en sygeplejerske, der kom forbi tre gange om dagen for at give mig medicin, de kalder Abelcet," siger han. For at gøre ondt værre blev han fyret fra sit lastbilkørejob, hans statsinvalideforsikring løb ud for nylig, og han mistede sin pladeproducer og trommeslager, som var flyttet ud af Bay Area.
Mike ser nu en fordel ved sine ulykker. Uden noget dagligt job at rapportere til og han stort set kommet sig over sin sygdom, planlægger han at fokusere alle sine kræfter på sin karriere som bluessanger.
"Dette er min mulighed for virkelig at gå videre og gøre blues til min livsstil," siger han. "Jeg synger blues for mit brød og smør nu."
Mikes tidligere cd'er – 2009 »Day to Day« og det følgende års »Tailor Made Blues« – fik strålende anmeldelser fra bluesmagasiner i USA og Europa – "He har superb soulful stemme, der får en til at tænke på Elmore James, Buddy Guy, Little Johnny Taylor og en ung B.B. King," bemærkede Englands Blues & Rhythm – og hjalp ham med at få jobs på bluesfestivaler i det nordlige Californien og Nevada og på Pennsylvanias prestigefyldte Pocono Blues Festival, hvor han åbnede for hovednavnene Mavis Staples og The Fabulous Thunderbirds.
Alabama Mike flyttede til Californien i 1983 efter at være vokset op med gospel og have sunget i kirkekor. Han spillede sit første professionelle job i 1999 og udgav sit debutalbum, Day to day, ti år senere. Siden er det blevet til flere cd-udgivelser, både som bandleder og som featured vokalist hos Andy T Band og Junior Watson.
Endvidere dannede Alabama Mike den akustiske trio "The Hound King"s sammen med Scot Brenton og Anthony Paule; de udgav albummet »Unleashed« i 2013, hvilket udløste Alabama Mikes anden Blues Music Award-nominering. I modsætning til de albums, som er med fulde elektriske bands, er den, en enkel akustisk affære med kun stemme, guitar og mundharmonika. Med Anthony Paule, der vælger et mønster, der trækker på stilene fra både Robert Johnson og hans stedsøn Robert Jr. Lockwood, og Brenton blæser en ensom Sonny Terry-lignende mundharpe. Trioens old-school-optræden lyder, som om den kunne komme fra den store depression i 1930'erne, snarere end fra den nuværende recession.
Alabama Mike udgav i 2019 »Hip You To My Blues«, hvor han får hjælp af blandt andre Kim Wilson og Big Jon Atkinson.
Alabama Mike
Alabama Mike has plenty to sing the blues about these days.
Until March of last year, he had a full-time job as a truck driver, hauling produce in an 18-wheeler back and forth between Richmond and Sanger in Fresno County five, sometimes six days a week. His side job as a blues singer was beginning to take off, and he'd just been nominated by the Blues Foundation in Memphis as "traditional male blues artist of the year." (He lost to Charlie Musselwhite.)
Then he developed a persistent, painful cough. He wouldn't go to a doctor at first, thinking it was just a cold, but his girlfriend insisted. He was initially diagnosed as having double pneumonia, but it was eventually discovered that he had valley fever, so named because of its prevalence in California's Central Valley. Mike had the worst type – disseminated valley fever – and he was bedridden in his San Leandro apartment with an IV port in his arm for a year – until six weeks ago.
Strong medicine
"I had a nurse coming over three times a day to give me medicine they call Abelcet," he says while sitting behind the wheel of his 1996 Buick Roadmaster. "The medicine is so strong that they had to give me a cocktail of Demerol, Tylenol and Benadryl to ease the side effects 'cause it gives you the shakes and fever and chills."
To make matters worse, he was fired from his truck driving job in July, his state disability insurance ran out recently, and he lost his combination manager, record producer and drummer, who had moved out of the Bay Area.
The singer, who was born Michael Benjamin 48 years ago in Talladega, Ala., is wearing a shiny champagne-colored suit, yellow shirt and hat, yellow and green tie and tan suede shoes, having just finished a four-song set at a Sunday afternoon blues festival in the parking lot behind the Capri Lounge in East Oakland.
That is his comeback gig, and he does another one that evening in West Oakland at Bikers' Paradise, a private establishment in a warehouse operated by the Public Enemy Motorcycle Club.
At the biker party, Mike has exchanged the yellow shirt and tie for a red shirt and matching breast-pocket handkerchief. Backed by a five-piece band that includes such Oakland blues veterans as guitarist Big Bob Deance, bassist Country Pete McGill and onetime Queen Ida saxophonist Bernard Anderson, he wails "Little Red Rooster," the Willie Dixon tune that was popularized in the '60s by both Howlin' Wolf and Sam Cooke.
As he sings, a woman wearing a see-through, ankle-length cape that reveals her bare shoulders and arms struts between the pool tables and the musicians. She flaps her arms like a chicken, then bends down, picks a red balloon off the floor and holds it atop her head to simulate a rooster's comb. Mike eggs her on by crowing between the song's phrases. Anderson joins the hilarity by making squawking sounds with his tenor.
Mike now sees an upside to his misfortunes. With no day job to report to and having largely recovered from his illness, he plans to focus all his energies on his career as a blues singer.
"This is my opportunity to really go ahead on and approach doing the blues for my lifestyle," he says. "I'm singing the blues for my bread and butter now."
Six days later, in a tiny recording studio in the basement of producer and harmonica blower Scot Brenton's house on San Francisco's Bernal Hill, Mike begins work on his third CD. Even though there's no audience, other than Brenton, guitarist Anthony Paule and a reporter, the singer is still looking sharp, this time wearing an outfit that includes a green V-neck sweater, orange bowtie and spit-shined orange-tan leather shoes.
Mike's previous CDs – 2009's "Day to Day" and the following year's "Tailor Made Blues," both on his own Jukehouse label – drew rave reviews from blues magazines in the United States and United Kingdom – "[H]e has a superb soulful voice that brings Elmore James, Buddy Guy, Little Johnny Taylor and a young B.B. King to mind," England's Blues & Rhythm observed – and helped him land slots on blues festivals in Northern California and Nevada and at Pennsylvania's prestigious Pocono Blues Festival, where he opened for headliners Mavis Staples and the Fabulous Thunderbirds in 2010.
Unlike those discs, which featured full electric bands, the one he's currently recording is a stripped-down acoustic affair with just voice, guitar and harmonica. With Paule picking a syncopated pattern that draws on the styles of both Robert Johnson and his stepson Robert Jr. Lockwood, and Brenton blowing a lonesome Sonny Terry-like mouth harp, Mike kicks the session off with an original 12-bar blues titled "I Ain't Never Seen Times Like This Before."
"My money done got funny/My change done got strange/My credit won't get it/Not a doggone thing," he cries out in anguished tenor tones. The trio's old-school performance sounds as if it might have come from the Great Depression of the 1930s, rather than from the current recession.
Mike will make his public debut with Paule and Brenton on Tuesday at Yoshi's in Oakland at a benefit for the East Oakland Boxing Association, a financially strapped nonprofit organization that for the past 25 years has helped keep young people between the ages of 5 and 20 off the streets by providing boxing lessons and other free activities. Also on the bill are Nick Gravenites, Barbara Dane, David K. Mathews, Rick Estrin and the Nightcats, Steve Lucky, Carmen Getit, Mark Hummel, Steve Freund, John Lee Hooker Jr. and Ron Thompson.