Lør. 11. nov. 23:55 – 01:00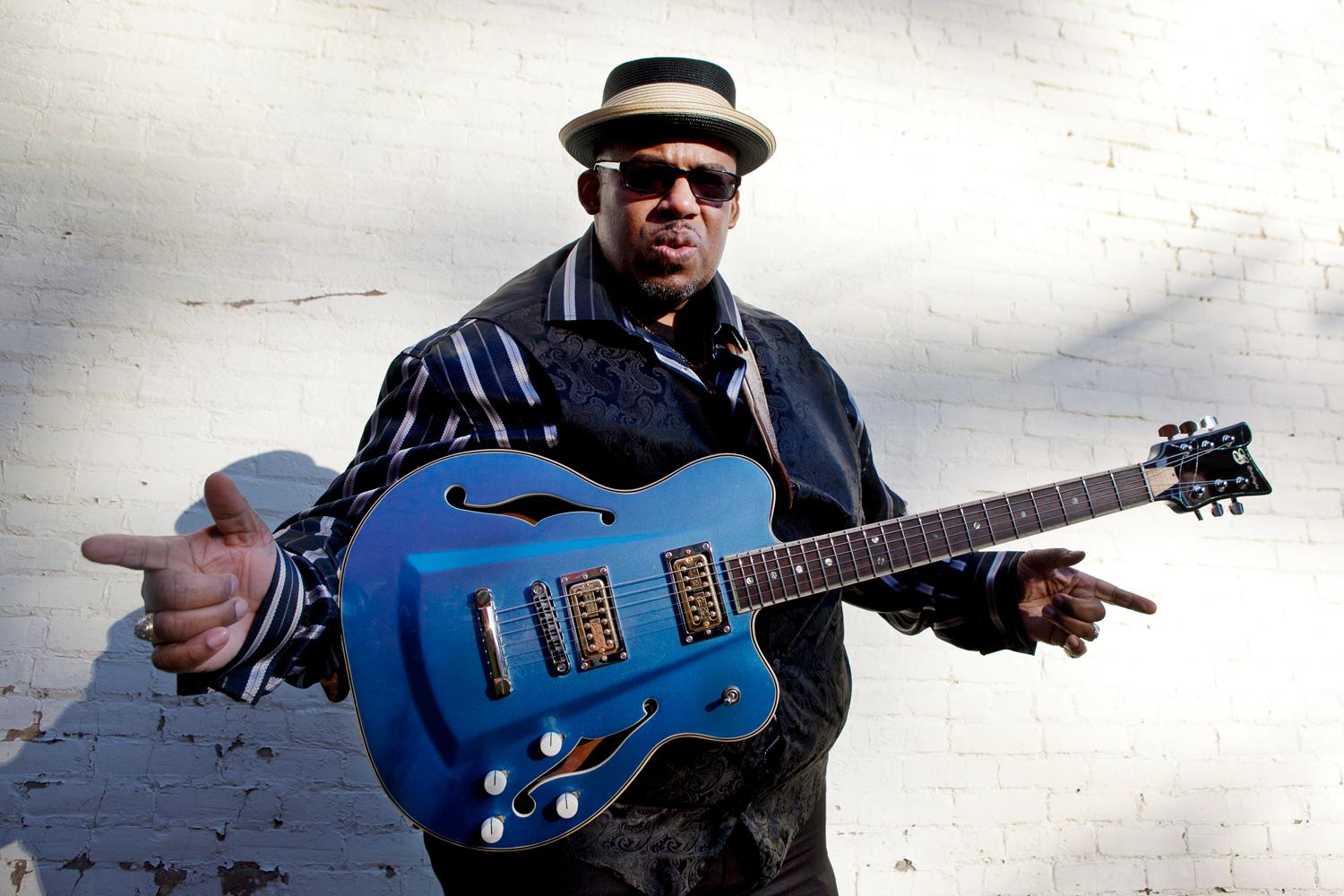 »HOW BLUE CAN YOU GET« Slam Allen
| | |
| --- | --- |
| Slam Allen | Guitar, vokal |
| Victor Puertas | Keyboards |
| Antoine Escalier | Bass |
| Pascal Delmas | Trommer |
| | |
Slam Allen – SLAM = "SMOOTH LIKE A MOTHERFUCKER."
Den internationalt anerkendte Slam Allen er en budbringer af musik og kærlighed. Denne dynamiske entertainer bruger Blues, Soul, R&B og et strejf af Rock'nRoll. Slam fanger dig med en stemme, der minder om Otis Redding, et guitarspil der fører dig imod B. B. King og sceneenergi, der minder om James Brown, alt imens han fængsler dig med sin egen originale musik!
Med fornavnet Harrison Allen, Jr., blev sangeren, bogstaveligt talt født ind i bluesen. "Min far stod på scenen den aften, jeg blev født," siger han. Han stammer fra Alabama, men bosatte sig i Monticello, hvor han voksede op i den musikalske familie.
Som teenager spillede Slam trommer i familiens soulband "The Allen Brothers", og senere lærte han at spille guitar af sin far.
Efterhånden som han udviklede sig musikalsk, vidste familien, at de havde et særligt talent.
Folk har kaldt mig Slam, siden jeg var barn, først senere fandt jeg ud af det stod for "Smooth Like a Motherfucker." siger han med et smørret grin der lyser hans ansigt op
Denne talentfulde musiker og entertainer var i otte år forsanger, leadguitarist og bandleder for den legendariske Grammy-nominerede bluesharpespiller James Cotton. "Cotton var en enorm stor oplevelse for mig! Der er ting, jeg har lært af ham, som man ikke kan lære i nogen skole. Det var en stor ære!" siger Slam.
I 2010 og 5 år frem var Slam Allen houseband på Norwegian Cruise Line- den første fuldtids Blues og Soul-artist på en National Cruise Line. Med Slam ved roret udviklede bandet hurtigt et utroligt forhold til gæsterne. De spillede seks aftener om ugen.
I dag fortsætter Slam Allen en national og international mission for at fylde sit publikum med glæde, lykke og kærlighed. "Hvis jeg kan underholde folk, gøre dem glade og inspirere dem til at se positive på livet, har jeg gjort mit arbejde! "Blues er liv, og livet er blues. "Jeg kan synge den mest sørgelige sang og få folk til at føle sig godt tilpas" siger Slam Allen.
Med udgivelse af 6 cd'er, krydser Slam Allen kloden på kryds og tværs og spiller festivaler fra Argentina til New York, fra Italien til Florida, fra Schweiz til Chicago og nu også Blues Heaven.
Highlights & Personal Achievements
2016 Blues Music Awards Nominee Best New Artist Recording "Feel These Blues"
2015 Blues Blast Nominee Best Soul Blues Album "Feel These Blues"
#11 on Living Blues Top 50 Blues Albums of 2015 "Feel These Blues"
# 6 on RMR Radio Charts top 200 Albums of 2015 "Feel These Blues"
10 Weeks #1 Roots Music Blues Radio Chart "Feel These Blues"
9 Years lead singer, lead guitarist, & band leader for James Cotton
Singer/songwriter Grammy-nominated Blues album, "Giant" by James Cotton
Featured Article in Living Blues Magazine 2015
Front cover of July 2016 issue of Blues Blast Magazine
New York Blues Hall of Fame Inductee as Master Blues Artist
The first full-time Blues Artist to work on an international corporate cruise line
National & international performer at music festivals & top venues
Featured sponsor Gerhards Guitarworks custom guitars
Featured sponsor Soul Tramp Amplification custom amps.
2016 Slam's songs featured on "Rizolli & Isles" & Netflix series "Jessica Jones"
2017 "That Day in September" featured in M. Knight Shyamalan's film "Split" & "I Know You Got A Man" featured in the Netflix series "Bloodline"
Festivals & Venues Slam Has Entertained
Blues To Bop Fest:Lugano Switzerland
The RBC Ottawa Blues Fest: Canada
The New York State Blues Fest
The Briggs Farm Fest
Musikfest
Buenos Aires Blues Fest:Argentina
The DC Blues Fest
The Calgary Blues Fest
Blues, Brews, & BBQ Fest
The Big Rib Blues Fest
The Gloucester Blues Fest
The Bradenton Blues Fest
Blues, Views, & BBQ
The Buck's County Blues Fest
The Baltimore Blues Society Picnic
The Bethel Woods Blues Fest
The Big Bluesy
Blues Alive Fest: Sumperk, Czech Republic
B B Blues Fest: Lisbon, Portugal
Tinner Hill Blues Fest
Belgium Blues Fest,Haringe, Belgium
Pocono Blues Fest
Destination Blues Fest
The Pennsylvania Blues Fest
Peekskill Blues & Jazz Fest
Poughkeepsie Jazz Fest
Blues 2000 & Beyond Fest
Blues Music Awards:Memphis, TN
BB King's: NYC, Florida, Memphis
The Falcon Arts: NY
Bethel Woods: NY
Art's Garage: Florida
Nash Performing Arts Center, North Carolina
Terra Blues: NY
A Soul, Blues and R&B powerhouse!
His name is Dylan Triplett, and he was born twenty-two years ago in Saint Louis, Missouri, where he listened to some of his predecessors like Chuck Berry, Little Milton, Tina Turner or even Miles Davis, which deeply influenced his musical evolution, which led him to start his musical career at the age of fifteen, playing with his father and uncle, both renowned musicians, and quickly reaching an unusual prestige.
Dylan Triplett is a Blues and Soul prodigy raised in a music family. Dylan started singing when he was 9 years old and had been doing so professionally since late 2016 when he began singing with Miss Carolyn Mason and other young artists like Marquise Knox. He's since performed at the National Blues Museum, among many other places, and is a star on the rise!
Thanks to the Vizztone record label, we have discovered a valuable young voice of the contemporary soul, with a vibrant tone, full of energy, magic, and passion, which combines as few musicians can do, the most authentic blues, soul and rhythm and blues.
For this debut album, Dylan has counted on the valuable help of bass player and producer Larry Fulcher, who has assembled an excellent group of musicians such as Christone "Kingfish" Ingram, Johnny Lee Schell, Sean McDonald, Tru Born, Mike Finnigan, and Kyle Turner. A very reliable team Larry has selected to support this young blues and soul singer with a promising future ahead.
The recording gathers ten songs combining Triplett's compositions with versions from Bill Withers, Marvin Gaye, and Miles Davis. As the album title says, this is the moment to ask and discover a voice that, despite its youth, has already got an unquestionable maturity.