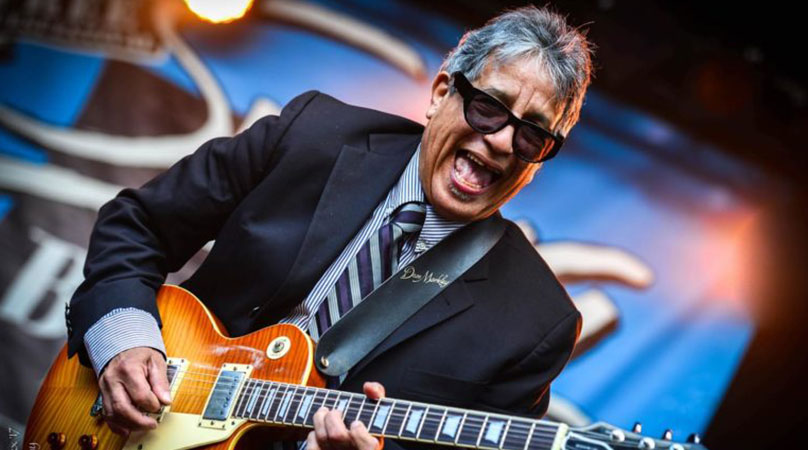 ''WHOLE LOT OF LOVING'' - CHRIS CAIN BAND
| Line up: | |
| --- | --- |
| Chris Cain | Guitar, vokal |
| Greg Rahn | Keyboards |
| Dewayne Pate | Bass |
| Sky Carcia | Drums |
Chris Cain
Chris Cain (født 19. november 1955 i San Jose, Californien) en amerikansk blues og jazzy guitarist, der også mestrer klaver, basguitar, klarinet og saxofon. Han begyndte at spille professionelt som teenager i lokale klubber og på festivaler.
Lige som Sugaray Rayford har også 66-årige Chris Cain tidligere optrådt på Blues Heaven, hvor han gjorde lykke i 2019.
Chris Cain betegnes som verdens mest autentiske B.B. King fortolker. Han har til dato udgivet 12 albums. For sit debutalbum i 1987, «Late Night City Blues» modtog han fire Blues Music Award nomineringer, heriblandt en i den tunge kategori: Guitar Player of The Year.
Dan Forte fra Guitar Player Magazine skrev bl.a. "Et imponerende debutalbum af en ekvilibristisk guitarist." Han skrev pladekontrakt med Blind Pig Records i 1990 og udgav sit andet album, «Cuttin' Loose» Derefter udkom «Can't Buy A Break» i 1992 og «Somewhere Along the Way» i 1995. Herefter fulgte en lind strøm af 7 anmelderroste udgivelser. Seneste album fra 2017 har den navnkyndige titel «Chris Cain». Den bragte flere Blues Music Award nomineringer, herunder Guitar Player of the Year, Best Contemporary Blues Album, samt Blues Blast Awards Best Males Blues Artist.
I de seneste år har Chris Cain dog atter fået større bevågenhed, først med albummet »Chris Cain« (udgivet af Little Village Foundation i 2017) og siden med »Raisin' Cain« (2021), der begge resulterede i Blues Music Award-nomineringer. »Raisin' Cain« var Chris Cains første udgivelse på det legendariske Alligator Records i Chicago og kan i år vinde i kategorierne "Album of the Year" og "Contemporary Blues Album".
Cain er tredjefødte søn af en afrikansk-amerikansk/græsk familie. Hans far var selvlært guitarist, men havde aldrig rigtig tid til at bruge lige så meget energi på at spille, som han gjorde på at lytte. Allerede som 3-årig blev Chris slæbt med til koncerter af sin far og hørte alle af de store blues kunstnere.
Blues musik spillede kontinuerligt på hjemmets stereoanlæg og familiens udflugter var oftest rejser til koncerter. "Jeg husker, da jeg var barn, og min far slog græsplænen med stereoanlægget på fuld styrke og Muddy Waters bragede udover hele nabolaget. Når jeg ser tilbage, var det ret cool! Der var altid musik i vores hjem, Ray Charles, B.B. King, Freddie King, Albert King, -alle de store". "Min far var lastbilchauffør, og på en eller anden måde vidste han altid hvor B.B. King og de andre favoritter spillede. Vi var der altid – vi missede aldrig et B.B. King eller Johnny Otis show.
Faderen gav Chris sin første guitar i en alder af otte og Chris lærte sig selv at spille. Efter skolen begyndte Chris at studerer musik på San Jose City College, og lærte snart jazz improvisationen svære kunst. Kombinationen af hans blues opdragelse, jazz studierne og kendskabet til de mange forskellige instrumenter smeltede sammen til den B.B. King inspirerede guitarstil, der har løftet Chris Cain helt op til eliten af tidens guitarister.
Joe Bonamassa siger "One of my favorite, and criminally underrated blues players of all time. Chris has influenced me for as long as I owned a guitar. Tone, and magic phrasing"
Chris Cain er sanger og guitarist og kan ikke løbe fra sin B.B. King-inspiration, men han har også adskillige andre strenge at spille på, og for fans af moderne elektrisk blues skal der nok være noget at glæde sig til.
Chris Cain
Chris Cain offers up a soulful stew of Memphis style electric blues. His powerfully deep vocals and jazz inspired, blues guitar riffs are unforgettable; uniquely his own, while reminiscent of the legendary BB King and Albert King. As a child, Chris Cain attended concerts with his dad to hear many of the great blues artists of the time. When Cain burst onto the blues scene in 1987 with his award winning debut album, he soon found himself sharing the stage and trading licks with a few of those legends, including Albert King and Albert Collins. Chris Cain has released a dozen albums, each filled with soul-stirring songs pulled from his own blues drenched heart. His brand of blues is unforgettable.
Cain was raised on stories of his father's childhood upbringing on Memphis' Historic Beale Street and attended his first B.B King concert at the tender age of three. Blues music played continuously on the home stereo and family outings were often trips to concerts. Cain recalls, "I remember when I was a kid, my Dad would be mowing the lawn with the stereo blasting Muddy Waters. When I look back, that was pretty cool! There was always music playing at our house, Ray Charles, B.B. King, Freddie King, Albert King, all the greats."
At the age of eight, Cain taught himself to play guitar and began playing professionally before he was eighteen. Chris studied music at San Jose City College, and was soon teaching jazz improvisation on campus. Over the next twenty years, Cain would also master piano, bass guitar, clarinet, alto and tenor saxophone. The combination of his blues upbringing and his jazz studies melded to form the searing guitar style that sets Chris Cain apart and has moved him to the top ranks of the blues music scene.