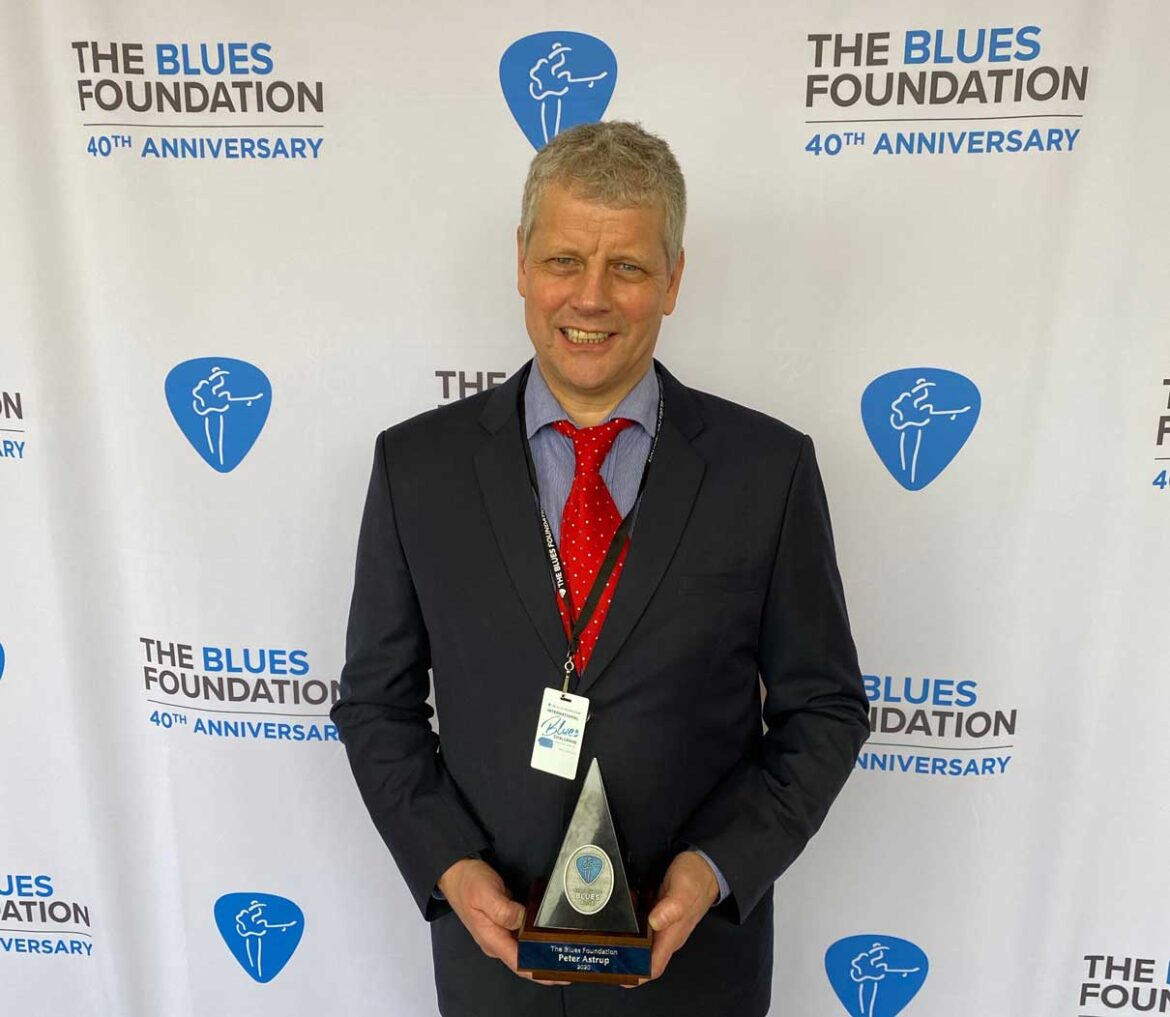 KEEPING THE BLUES ALIVE WINNER 2020
Peter Astrup's KBA acceptance speech at the 2020 "Keeping The Blues Alive" Award ceremony in Memphis.
A great honour to be selected to be ONE of FIVE FINAL JUDGES at the INTERNATIONAL BLUES CHALLENGE in the solo/duo category at the amazing Orpheum Theater in Memphis…
The Danish TV station TV2 Nord dropped by my "House Of Blues" in Pandrup this morning and we got a brief talk about Memphis and my Award "Keeping The Blues Alive". As the first Danish citizen ever to receive the Blues Foundations prestigious KBA award.
DENMARKS RADIO P4 invited me to the studio today Sunday, February 16th, 2020…
Denmarks Radio's young journalist needed to learn and understand that "The Blues Is Alive and Well" – Inside the interview, she kind of shocked me and played the normal pop-music!!! (here edited out), and later on only a few seconds blues of Thornetta Davis and Curtis Salgado, – which made me happy. I guess we are still fighting a long serious battle with the national radio station in Denmark…
Radio Bluestimen lavede forleden et interview med Peter Astrup om 2020 BLUES aktiviteterne.
1.000 tak til Bøje Nielsen fra Radio Bluestimen – der forleden ringede mig op og lavede et interview om BLUES RUNDREJSEN TIL USA til bl.a. New Orleans, Baton Rouge, Clarksdale og Memphis… https://www.facebook.com/events/42362… samt det at vinde en KBA og være finaledommer i den store International Blues Challenge i Memphis. Der er bl.a. også et par smagsprøver på Tommy Castro og Bobby Rush som kommer til Blues Heaven i starten af november…
The Memphis TV Station Ditty TV on Beale Street doing the 2020 International Blues Challenge.
Radio show at WAZA 107.7 FM February 4th with Mr. SIPP & Fern Crossley in McComb, MS, MR SIPP brought me to a radio station in McComb, – and VUPTI, suddenly we went live on the air in Mississippi..