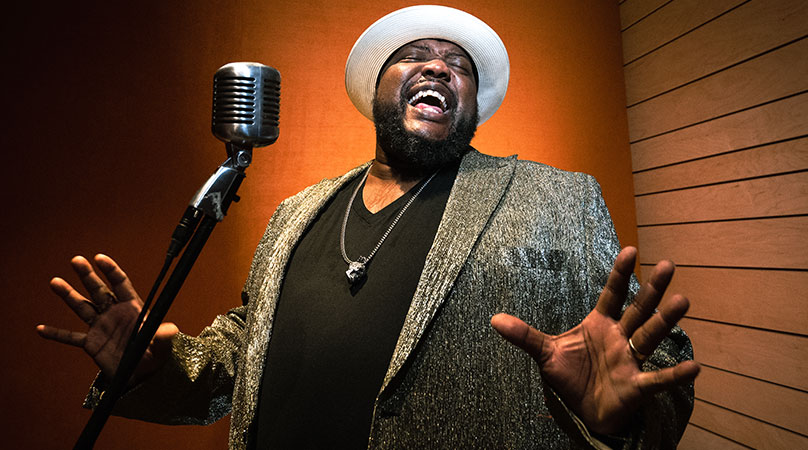 Sugaray Rayford - Take Me Back [ OFFICIAL VIDEO ]
| Line up: | |
| --- | --- |
| Sugaray Rayford | Vokal |
| Drake "Munkihaid" Shining | Keyboards |
| Allen Markel | Bass |
| Danny Avila | Guitar |
| Ramon Michel | Drums |
| Derrick "DJ" Martin Jr. | Sax |
| Julian "JuJu" Davis | Trumpet |
Sugaray Rayford
"SUGA" Er en Grammy-nomineret amerikansk soul-blues-sanger og sangskriver.
Han har udgivet seks album til dato og blev i både 2019 og 2020 vinder at Årets Blues Music katagori: "Soul Blues Artist of the year".
Han har i de seneste år været hovednavn på mange amerikanske og europæiske festivaler. I år vender Sugaray Rayford med band tilbage til Blues Heaven, hvor han også optrådte i 2017. Den to meter høje blues- og soulsanger har et godt tag i det danske publikum,og deres shows er berømt for at være yderst powerfyldt.
Caron Nimoy "Sugaray" Rayford er født 13. februar, 1969 i Texas og begyndte sin musikalske karriere i en alder af blot 7 år med at synge og spille trommer i kirken. Gospel har haft stor indflydelsen i hans opvækst og det kan høres og mærkes i hans musik.
Når Sugaray synger, kan man ikke kun høre det, man føler det! Rayfords frasering er intim og udtryksfuld, spændingen i lokalet er håndgribelig når han indtager scenen; Han er en fantastisk sanger og entertainer. Hans dynamiske stemme er stor – ligesom manden selv. Med sin old school sang stil, kan man høre ekkoerne fra Muddy Waters, Otis Redding og Big Joe Turner. Med sine 2 meter er han en stor mand, men han bevæger sig med ynde og meget energisk. Hans flydende dansetrin minder om legendariske James Brown.
Sugarays første solo-cd – »Blind Alley« blev udgivet i 2010 – og høstede positiv kritisk og stor anerkendelse. Hans anden solo-cd, »Dangerous«, blev udgivet i september 2013 på det anerkendte pladeselskab, Delta Groove. Dangerous debuterede som nr. 2 på Blues Debut Chart, nr. 6 på Roots Music Chart.
Sugaray har været frontmand i sit eget syv-mand store band – Sugaray Rayford Band – siden 2010. Pt. består dette band af verdensklasse musikere – bl.a. den super-dygtige blæsergruppe fra Amy Winehouses band. Men Sugaray Rayford Band er kun et af Sugarays projekter. Siden maj 2011, er Sugaray en af forsangerne i "Mannish Boys". Denne internationale supergruppe optræder 6-8 gange om året. Sugaray var forsanger på 9 numre på »Double Dynamite« – Mannish Boys cd'en, der i 2013 vandt en Blues Music Awards som "Bedst Traditionelle Blues Udgivelse".
Selv har Sugaray Rayford været nomineret til 21 Blues Music Awards. Bl.a. blev han i 2015 nomineret til fire separate 2016 Blues Music Awards for "Contemporary Blues Album", "Contemporary Blues Male Artist", "Best Song" og "B.B. King Entertainer". I år er han nomineret i samme kategori samt i "Instrumentalist – Vocals" og "Band of the Year" (Sugaray Rayford Band).
Sugaray Rayford
"SUGARAY" RAYFORD IS A GRAMMY NOMINATED AMERICAN SOUL BLUES SINGER AND SONGWRITER. HE HAS RELEASED SIX ALBUMS TO DATE AND WAS AWARDED "BMA SOUL BLUES ARTIST OF THE YEAR" IN BOTH 2019 AND 2020.
A chance meeting in Memphis laid the groundwork for a unique musical partnership between soul-blues powerhouse Sugaray Rayford and producer, songwriter Eric Corne. Combining classic soul melodies with funky R & B grooves, raw blues power, and mashed up with modern sensibilities, the pair's first collaboration, Somebody Save Me, earned Rayford a 2020 Grammy nomination while later that year he took home Blues Music Awards for 'Soul Blues Male Artist' and 'B.B. King Entertainer of the Year.'
Last summer's adventurous single "Homemade Disaster" took things further, landing on multiple retro soul and new blues playlists on Spotify, with PopMatters declaring the track "will appeal to fans of Gary Clark Jr. and Chicano Batman."
Sugaray Rayford returns with In Too Deep. Combining classic soul melodies with funky R&B grooves, raw blues power and mashed up with modern sensibilities, the album takes on issues, such as PTSD, civil rights and social justice. With vibrantly detailed arrangements tailored to showcase Rayford's deft portrayals and interpretations, In Too Deep is a poignant album that seeks to inspire and uplift.
Albumism described Rayford as having "a sound that's undeniably fresh and inspired," while PopMatters declared it "will appeal to fans of Gary Clark Jr. and Chicano Batman."
At his core, Sugaray Rayford is a galvanizing uniter. His live shows are a party. Some conversations may be had, and some self-reflection may occur, but at the end of the day, people leave feeling a sense of joy and togetherness.
SUGARAY'S STORY
Texas born Caron "Sugaray" Rayford began his musical career at the age of 7 singing & playing drums in church, and his gospel influence can be heard and felt in his music. Rayford's phrasing is intimate and conversational and the soulful gravel in his voice hints at his firsthand experience with hardship.
HARD TIMES IN TEXAS
He grew up in Texas, his childhood marked by poverty and loss. He remembered a sad game he played with his brothers, a competition that determined who was skinniest by counting the number of belt holes left unused. His mother struggled to raise three boys alone while battling cancer. When she died, it was a kind of relief. "She suffered and we suffered," Rayford said. "Then, we moved in with my grandmother and our lives were a lot better. We ate every day and we were in church every day, which I loved. I grew up in gospel and soul."
THE SAN DIEGO DAYS
His switch to contemporary music began about 15 years ago in the San Diego area, where he sang lead vocals with a R&B/Funk band called Urban Gypsys. With this band he had the privilege of sharing the stage with many notable artists such as The Average White Band, Dennis Quaid, Joe Luis Walker, Kal David, Super Diamond & Venice, to name a few.
TURN TO THE BLUES – AUNT KIZZY'S BOYZ
After dabbling in blues, Suga realized that the blues was where his heart and soul belonged. So after some soul searching he left the Urban Gypsys and became lead vocalist for Aunt Kizzy'z Boyz, a Temecula area blues band. Shortly after joining the band in 2004, they released their first CD "Trunk Full of Bluez". This band was hungry and did over 200 gigs a year over the next few years and their popularity rose exponentially.
Aunt Kizzy'z Boyz represented San Diego (Blues Lovers United San Diego) in Memphis Tennessee January 26th- 28th, 2006 at the International Blues Challenge (IBC), and brought home the 2nd place prize. The band began playing higher profile gigs and in 2007 released their 2nd CD "It's Tight Like That". In September 2008, the Boyz won the LAMN Jam Grand Slam Urban Artist of the Year title by a landslide; they beat out hundreds of competitors.
The band was offered a distribution deal on the spot by RBC Records. Tabitha Berg wrote, "The band's most valuable ingredient is that of the band's dynamic front man Sugaray, he knows how to read and work a room. While most artists simply perform, exceptional artists are responsive to the mood of the crowd. The energy shifted when AKB took the stage, and they had the crowd on its feet within seconds."
LOS ANGELES – HOME SWEET HOME
After moving to Los Angeles several years ago, Sugaray was asked to host a blues jam at Cozy's in Sherman Oaks. It is through this venue that Sugaray met and played with innumerable world-class musicians. Suga's desire to explore and expand his musical vision has been nourished by these musicians. His solo career has flourished in LA.
MANNISH BOYS
May 2011, Sugaray became one of the lead vocalists for the Mannish Boys, who were under Delta Groove management. He sang lead vocals on 9 songs on Double Dynamite the Mannish Boys CD that won Best Traditional Blues Album in May 2013 at the Blues Music Awards.
SOLO CAREER
His first solo CD Blind Alley was a self-release in 2010, which garnered critical acclaim. His second solo CD Dangerous, was released on 9/17/2013 under the Delta Groove label and debuted at # 2 on Blues Debut Chart, #6 on the Roots Music Chart and #2 on The Living Blues Chart. Supporting Sugaray were guest performers including Kim Wilson, Kid Andersen, and Sugar Ray Norcia. In October 2013, Rayford toured with Kevin Selfe and the Tornadoes.
At the 36th Blues Music Awards, Rayford was nominated in two categories; B.B. King Entertainer and Traditional Blues Male Artist.
On May 19, 2015, Rayford released Southside. It featured a guest appearance by Bob Corritore on harmonica.
On September 1, 2017, Rayford released The World That We Live In.
On January 9, 2018, Rayford was nominated for four Blues Music Awards for the 39th annual Blues Music Awards. These included 'Soul Blues Album', for The World That We Live In, plus 'Soul Blues Male Artist', 'Instrumentalist – Vocals', and 'B.B. King Entertainer'.
At the 40th Blues Music Awards in 2019, Rayford was named as 'Soul Blues Male Artist of the Year'.
Rayford's latest album, Somebody Save Me, was nominated for a Grammy Award in the Best Contemporary Blues Album category.
At the Cascade Blues Association Muddy Awards in 2019, Sugaray Rayford won National Recording of the Year for Somebody Save Me and Performance of the Year for his performance at the Waterfront Blues Festival.
The Sugaray Rayford Band won "Best Blues Band" for the 2019 Blues Blast Music Awards.
At the 41st Blues Music Awards in May 2020, Rayford was presented with two Blues Music Awards for 'B.B King Entertainer of the Year' and 'Soul Blues Male Artist of the Year'.
A LITTLE OF THIS…
He has done studio vocals on several projects, such as the theme for Judge Joe Brown, the movie trailer City Lights, a couple of songs on Person of Interest and many other projects.
May 2012 he made his stage debut starring in the Tony award winning play "Ain't Nuthin' But The Blues" at the Portland Center Stage in Portland Oregon. He joined members of the New York Broadway cast playing the part previously played by the late Ron Taylor. It had a 6-week run where every show ended with a standing ovation.
He also starred with Felicia Fields and Chic Streetman in the play "Low Down Dirty Blues" that ran in Milwaukee and Cincinnati in 2015. It was a great success in both cities. Suga hopes to have the opportunity to perform on stage in the future.